Strain Review: Wedding Mints by Entourage Company
WEDDING MINTS
Via: @ent.our.age.dc @enter.our.age @entouragecompany
Lineage/Genetics: Wedding Cake x SinMint Cookies
Original Breeder: Sin City Seeds
Grower: Entourage Company
Wedding Mints Strain Review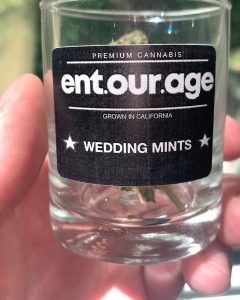 The final of three strains I've tried via @ent.our.age.dc I found myself thinking we may have just saved one of the best for last. At first glance, the pepper-shaped structure of Wedding Mints looks incredibly delicate and frosty like a tree frozen over in winter. The buds themselves are clumped tightly on the stem, yet are surprisingly airy and resinous upon the grind. At its core, Wedding Mints is a muted shamrock green with a remarkable marbling of orchid purple stretching deep into the buds. The pistils are long and wispy, ranging from a golden brown to wheat in color, providing an overall off-white glean to the strain in combination with a glaze of triches.
The nose on this cut clearly identifies both the 'wedding' and 'mints' in this strain with a powerful minty cream and piney musk. Lighting up a finely ground bowl, the taste of Wedding Mints expands into an
earthy, 'thin mint' cookie esque inhale with a peppery, sweet kush streak on the back end.
Wedding Mints hits with an instantaneous potency I historically associate with high THC strains. A big bowl of this strain will make you quick to sit down and catch your breath. However, the true effects take a few minutes to settle in. I first noticed the onset of a heavy headed, blissful intoxication, the type that makes you dumb to outside stimulus. Perhaps it's a placebo of the head high, but the effect on the body are quite exceptional as well – Calming waves roll head to toe, encouraging a slower pace and mild tranquilization, without any heavier sedative tendencies. An ideal end of the work day strain.
What's everyone else smoking today? Do you like the white background on these 📸? Comment below ⬇️⬇️
#Budfinder
•
•
•
•
#dcbud #dc420 #420 #dcweed #mdweed #stoner #marijuana #dccannabisculture #strainfinder #thc #dccannabis #dcdabbers #puffpuffpass #dopesmoke #dmv420 #topshelf #stoner #whiteashonly #cleanmeds #i71 #sinmintcookies #entourage #weddingmints
Advertisements