Strain Review: Romulan by Pearl Pharma
Out with the new and in with the old! I cannot recall the last time I had Romulan!! It's been at least 4 or 5 years. Review below for @pearl_pharma latest drop to their family. Pearl Pharma
Romulan – 24%THC
Lineage/Genetics: Thai landrace x Colombian landrace x Mexican landrace x Afghani landrace
Indica or Sativa: Indica dominant Hybrid
Original Breeder: Romulan Joe
Grower: Pearl Pharma
Romulan Strain Review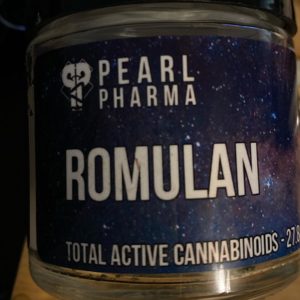 Comments:
New drop from Pearl, necessary grab at the local shop. I love seeing older strains come back since the market is flooded with multiple kush and cookies hybrids.
Review:
1. Scent: Earthy spice slaps right on the front of the nose. A deeper inhale of the jar is giving off a danky cedar trees, pine, and reminds me of a cabin. It's pleasant and warming to the front of the pallet. Little more spice on exhale.
2. Appearance: Lighter side of olive green then dark hues that are little bit of red, mixed with deeper green. Coated tip to stem with trichomes and smelly terps.
3. Nug Structure: Dense bulbs, they do not break without a little force so grinder was def preference on break down. Tons of milky trichomes and little to no leaf matter. Looking forward to the kief off this shit.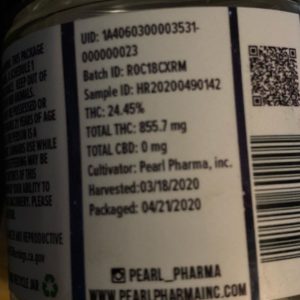 4. Smoke: Deep chest grabber. If you take big bong rips and milk it, you're going to be coughing a shit ton. The smoke is dense and rich. Don't assume it's a lighter strain cuz it dances with ya lungs! Off the bubbler the following day it was much smoother. Not sure if I skipped a bong clean day or what but after the first session it felt a lot better on the throat.
5. Taste: That resin jars ya hard on the bottom side of the exhale. Kinda harsh, nearly coughing off the bong with ice and everything. Will def try off the bubbler here for the next bowl…Smoother day after for sure. Good to note a clean piece brings out the full pine and pepper notes. Dry pull was not conducted but will happen for future review.
6. Reaction: Slight delay with the head change but it smoothes out to the rest of the body like melted butter. Not a day time smoke, I was lazy AF for an hour after. Don't schedule shit except TV and food. Which is what ya need right now in this COVID19 crazy time we live in now. Would grab again.
#cannabiscommunity #cannabis #cannabisreviews #trees #weed #weedreviews #pot #potreviews #marijuana #marijuanareviews #thc #sacramento #916 #420 #yee #legal #Romulan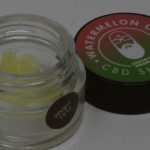 Here's a quick review of the Watermelon OG CBD Shatter that I got from CBD Oil Solutions. Have you ever really needed the calming effects[…Read more]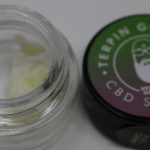 Here's a quick review of the Terpin Gorilla CBD Shatter that I got from CBD Oil Solutions. This CBD shatter is perfect for when you[…Read more]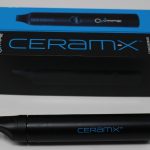 O2Vape's Ceram-X is a tried and true portable concentrate vaporizer with a ceramic coil. I've been a ceramic coil fan since they first started hitting[…Read more]
Check out more reviews by @trunorcal420 on Instagram! (www.instagram.com/trunorcal420)