Strain Review: Chocolate Raspberry Pastry's from Lemonnade Sacramento
Friday…🙌🏻 #YEE
. @pastrys_sr
. @lemonnadesacramento
. @trunorcal420_ (bkUP)
. @westcoastsmokeshow (Squad)
Brand: Pastry's
Cultivar: Chocolate Raspberry Pastry's
Lineage/Genetics: Unknown
Original Breeder: Pastry's
Dispensary: Lemonnade Sacramento
Chocolate Raspberry Pastry's Strain Review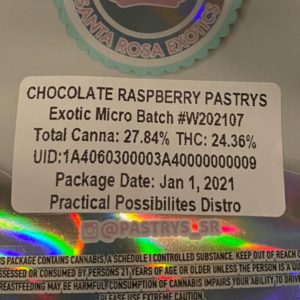 24.36 %THC
0% CBD
27.84 % Total Cannabinoids
Pkg Date:1/1/2021
Comments: Hell yeah love me some of these exotic flavors from Pastry's!! Let's see how this new one touches down. 🙏🏻😬
Review
1. Scent: Dark chocolate vibe at first. Later on it moves to a sugary earth sent.
2. Appearance: Beauty for sure. Lots of colors showing under light greens, purples, and a ton of layered on trichomes. Pretty milky.
3. Nug Structure: Pulls just fine off the stem. Using the grinder tho for some extra kief savings.
4. Smoke: So smooth down and out. Literally had no issue from start to finish. Cleaned the bubbler and it was even smoother, can't ask for more.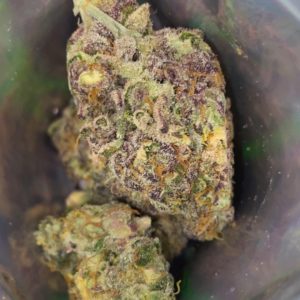 5. Taste: More creamy chocolate tones on the nose exhale at first. Danky for sure with a couple small gas tones now that my tongue is feeling the full flavor. Missing the earthy notes tho.
6. Reaction: One bowl had me cleaning the backyard and totally trippin while doing it. 🤯 easily an hour thirty on that. Next bowl had the same length of past an hour.
7. Conclusion: One of my new faves from em. I tend to keep the bags longer than jars due to freshness right now, and I can "hide & surprise" myself later 😂🤦‍♀️ This one was picked up like a week maybe two weeks back so I'll try to pump these out quicker, so ya know if it's worth it when you go. (Id get another) 🙌🏻💯📠
#NoHashTagz