Strain Review: Cake Mints by LOWD
Cake Mints from LOWD @thelowd. Frankly, I wasn't expecting it to be this good. I was gonna do my three reviews in order of favoritism, but I can't get over this shit.
Lineage/Genetics: Wedding Cake x Kush Mints
Original Breeder: Seed Junky Genetics
Grower: LOWD
LOWD Cake Mints Strain Review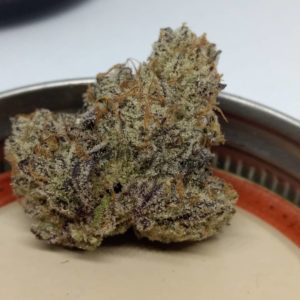 The weed from these guys turns every knob up to 11. The terps are strong as fuck. Room clearing gassy menthol notes come out of the jar, but give way to a really pleasant Cakiness. It's the standard @seedjunky_jbeezy Cake Mints, but @jescehorton seems to have pulled a really special pheno that really embodies all it's genetic components. You get doughy Wedding Cake, you get minty Kush notes. This convinced me to grab some regular Kush Mints for a comparison.
I'm not gonna get into the quality of the cure too deep in this review, but it's also perfect. No gunked up grinders or difficulty in handling. The terps stick to your fingers in a really pleasing way, but not once does it feel like it was undercured to enhance stickiness.
The high is fucking powerful, too. I could actually feel my anxiety melting away on the first hit, which isn't something I get with powerful highs often. It's been an insomnia strain for me, it's been a movie watcher just as effectively, though. It allowed me to sleep if I wanted to, but it wasn't one of those "Jesus, take the wheel" kinda highs.
I'm flirting with fanboy status here, so I'm gonna mention a negative real quick. When I say everything is cranked to 11, I also mean the price. I didn't have to buy this, so I can't give you an exact number, but there's a reason I hadn't reviewed this stuff despite the hype. At the same time, I actually think this is worth the price if the packaging is factored in. UV protected glass jars that will definitely get reused for various purposes by me. I appreciate reusable packaging. I think a lot of people forget that recycling is supposed to be the last option. Reduce and reuse come first in the slogan for a reason.
These guys are taking off. They have a list of vendors on their website. If you need some special occasion weed, try some of theirs.
#thehighestcritic #strainreview #strainreviews #weedreviews #420review #portlandcannabis #OMMP #portlandweedreviews #MMJ #oregoncannabiscommunity #portlandcannabiscommunity #oregonweedreviews #Medicate #oregoncannabis #PNWStoners #PDXcannabiscommunity #pdxcannabis #pdxstoners #cannabiscommunity #cannabisreviews