Strain Review; Banana Sundae by SYNERGY
Happy Sunday!
. @golden_state_banana
. @synergy_cannabis
. @lemonnadesacramento
. @westcoastsmokeshow
Brand: Golden State Banana x Synergy
Strain: Banana Sundae
Lineage/Genetics: Banana OG x Sundae Driver
Original Breeder: Cannarado Genetics
Grower: Golden State Banana x SYNERGY
Dispensary: Lemonnade Sacramento
Banana Sundae Strain Review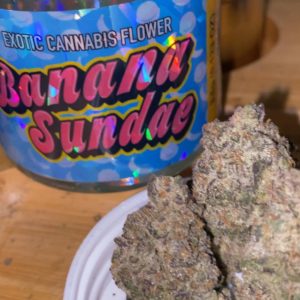 23.48%THC
Comments: Big banana fan, their shit hits differently. Read on IG one of the terps makes ya "Tommy Chong" as in lazy AF. So let's see if it's true!
Review
1. Scent: Not a ton happening on the nose-it's mostly a muted banana peel with some type of organic situation I can't quite place.
2. Appearance: Clumpy groups of trichomes, plant matter, and a few other colors varying from a light yellow to a deep purple. It's another world.
3. Nug Structure: Broke down in chunks, it was a little dry even though it was packaged in September, but damn. Tons of trichomes left on the fingers when braking apart.
4. Smoke: Heavy like a Metallica song. Both off the bong me bub. Not for a rookie. Hurting for a couple seconds then bliss.
5. Taste: Charred peel of a banana mixed with harsher herbs and spices. It's harsh for sure even with ice. Goes away bout 30 seconds later.
6. Reaction: Lights out. Straight up ripped a bowl of this after a decent morning brunch and passed TF out. Seen a post regarding the lazy terps found in certain banana cuts, so I'd agree with them. Night time only for us. Throughout the week, this was our night time before bed only weed.
7. Conclusion: Fantastic high if you want complete KO power. As someone who has smoked various cuts of banana, this one is harder hitting than Banana lato & even Banana Runtz from way back in pre reviews about a year ago. If you want power this is it.
8. Lift vs Ticket: The high is worth the fee, plus nearly 7 ✅ for it. (10 yucks per ✅ for the fee) but it leaves you so messed up that it's almost one of those "before bed" or "I gotta forget everything" cuts.
#cannabiscommunity #cannabis #cannabisreviews #trees #weed #weedreviews #pot #potreviews #thc #sacramento #916 #420 #yee #legal #strainreview #california #valley #thehighestcritic #westcoastsmokeshow #loud #goldenstatebanana #bananasundae #stickerfarmermadeit