Strain Review: Zkittle Cake by Mendo Inc.
The Friday Review! Woo!
. @mendo.inc
. @lemonnadesacramento
. @westcoastsmokeshow
Brand: Mendo
Strain: Zkittle Cake
Lineage/Genetics: Zkittlez x Wedding Cake
Original Breeder: Purple Caper Seeds
Grower: Mendo Inc.
Dispensary: Lemonnade Sacramento
Zkittle Cake Strain Review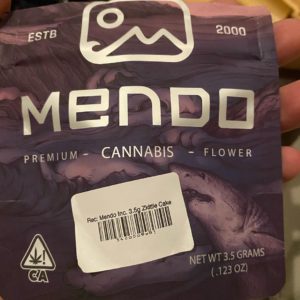 23% THC
Comments: New drop to Lemonnade and they asked how it smoked actually! Kinda coo to have that interaction between shops, clients, growers, etc. See how they stack up below.
Review
1. Scent: Semi sweet at first then dulls away to a cooling wooden scent. Light berry left on the fingers when breaking it up.
2. Appearance: Trimmer was fixed on no plant-all bud. Love it but not a whole lot of trichomes at first-dark and deep greens. "A" sized nug was nice.
3. Nug Structure: Snuggled tightly together, the bud was nicely hydrated and didn't appeared squashed in the bag. Had a buddy post a mylar from some other brand and it was no good. This was nice and grown with care.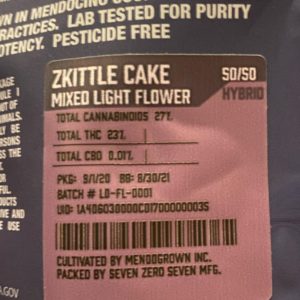 4. Smoke: A small tingle left on the nose, roof of mouth. No cough from the bubbler but was a tad bit harsher on the throat with the bong (no ice/not cleaned tho). Another go a little later was a tingle on the nose again, peppery vibe.
5. Taste: Faint sweetened taste fading to a bit more of that woody impression from the nose. Light blueberry or grape maybe, but it's too faint to tell.
6. Reaction: First impressions were mixed. A Sunday morning toke was uplifting while allowing for creativity, relaxation and focus. I cleaned the kitchen, gamed, and wrote this whole review so things are looking pretty good for this hybrid. Further bowls were evenly spaced to keep the ball rolling while cleaning. Good uplift but relaxed enough to hit a bowl and watch TV for a "break" 😂
7. Conclusion: Love the fact that there was a great white shark on the bag. 💯 Affordable ticket and the know cross breed was appealing. I'd buy again and try another cut. I'm familiar with these two on their own so it was a safer bet. Would be interesting to try their other cuts but I'll have to check the shops menu first. I'm sure this is going fast.
#cannabiscommunity #cannabis #cannabisreviews #trees #weed #weedreviews #pot #potreviews #thc #sacramento #916 #420 #yee #legal #strainreview #california #valley #thehighestcritic #westcoastsmokeshow #loud #mendo #zkittlescake
Check out more reviews by @trunorcal420 on Instagram! (www.instagram.com/trunorcal420)