Strain Review: Sugar Mint Pastry's by Pastry's
New New Review!
. @pastrys_sr
. @lemonnadesacramento
. @westcoastsmokeshow
.
Brand: Pastry's
Strain: Sugar Mint Pastry's
Lineage/Genetics: Thin Mint x Face Off OG
Original Breeder: Pastry's
Grower: Pastry's
Dispensary: Lemonnade Sacramento
Sugar Mint Pastry's Strain Review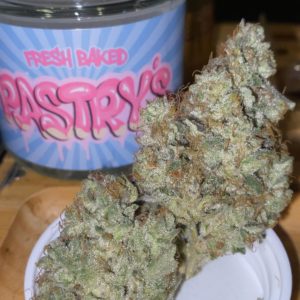 32.85% THC
Comments: Aloha fam! This brand has been under my "I hope it lands in Sacramento" list for a long time. The Bay Area has a different selection and this was one of those I've seen from afar on IG but not in person. Heard good things and had to support the locals.
Review
1. Scent: Maple with a brown Sugar Oatmeal scent. Really bomb nose that I've smelt similar before about a year ago from another high end brand I can't recall.
2. Appearance: Holy smokes this is the shit that you hope to find. Golden hairs, a lot I mean a LOT of trichomes. Bud looks fab.
3. Nug Structure: Not overly dense but you can tell the grower took care in it. The money nug was AAA plus looking. Too bad the skeeze is broken otherwise it woulda prob been 2.8 g or heavier.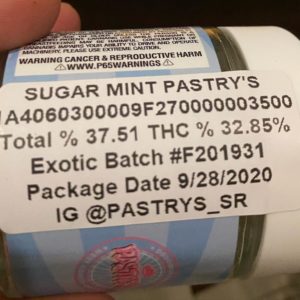 4. Smoke: Wow. Solid smoke off bong, bub or joint. Not hard on the throat or painful anywhere on the nose during exhale.
5. Taste: That oatmeal maple vibe with a sweet little kush back end. I'm finding this to be an enjoyable one.
6. Reaction: Instant stoned. As soon as I exhaled I ended up just being in a semi trance but extremely uplifted. Giggles came on about 30 mins later.
7. Conclusion: Small batch farms are hard to find up in SacTown. The draw is to the Bay Area where a zillion folks live and you can find any strain you could image. However, I would put this on my "every time" list along with a very select few brands I've tapped into over the years. I really loved this and was super pissed I got one jar only. It's fair to say I liked it.
#cannabiscommunity #cannabis #cannabisreviews #trees #weed #weedreviews #pot #potreviews #thc #sacramento #916 #420 #yee #legal #strainreview #california #valley #thehighestcritic #westcoastsmokeshow #loud #pastrys #bayarea #sugarmintpastrys #craftcannabis
Check out more reviews by @trunorcal420 on Instagram! (www.instagram.com/trunorcal420)