Strain Review: Zacks Pie by Jungle Boys
Official ZACKS PIE @jungleboys REVIEW aka Zombie Pie or Zoom Pie.
Lineage/Genetics: Wedding Cake x Grape Pie
Original Breeder/Grower: Jungle Boys
Terpene Profile: Unknown dominance
Zacks Pie Strain Review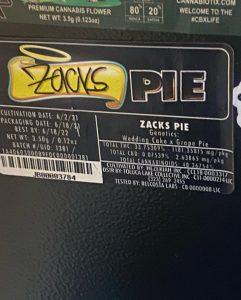 THC: 33.75% CBD: 0.0% CANNA: 40.4% packaged: 6/15/21
First impression – always heard good things about jungle boys, but the price point made it hard for me to ever try them because once we get to that price range.. there's much better options. I confirmed that with this review.
WEIGHT CHECK- 3.5/3.5 10/10
AROMA – not much smell, maybe lil cakey with lil peach/apricot very plain I was expecting a lot better 71/100
APPEAL – light colored fuzzy nugs. Not frosty but more 'fuzzy' light greens and yellows. One nug looked like a popsicle with an inch and half of bare stem. Peachy apricot colors as well. I mean you can tell it's decent weed but very plain. Same as smell I was expecting something more exotic and less basic. 70/100
SMOKE & TASTE – smoked good and clean. Taste was cake and apricot for me but not much taste. Got me faded but took a 1.75g cone, burned slow at least. 81/100
EFFECT & MEDICINE – relaxing was expecting more. Basic stoneage. 78/100
Puff or pass: PASS. No disrespect but I was right for avoiding them. From this one strain I've tried I'm starting to think this might be another 'Hype' brand people will rep just to be cliche. Compare to @cookiessf and @gocaliva DO NOT COMPARE TO @cannabiotix @cali_lotus @kushco3 @camstr007 . Guys there's way way way better for lower price point 🤷🏻‍♂️
Overall: 76.50/100
Nothing is for sale! PHOTOGRAPHY AND REVIEWS ONLY!! #420 #710 #cannabis #cannabisreview #cannabiscup #cannabiscommunity #ᴡᴇᴇᴅᴘᴏʀɴ #sandiegoweed #sandiego420 #californiaweed #calibudreviews #californiacannabis #kush #indica #sativa #growyourown #weed420 #hash #socal420 #weed #ᴡᴇᴇᴅᴀʀᴛ #cbxlife #710labs #weedstagram #medicalmarijuanna #rosin #liverosin #persyrosin #zackspie
Advertisements