Strain Review: Sundae Driver by Meraki Gardens
This Sundae Driver from @merakigardens and @tetra.pdx needs reviewing, though. The nug structure is unique, the farm is quality, and the dispensary is a nice one to have in the neighborhood.
Lineage/Genetics: Fruity Pebbles x Grape Pie
Indica or Sativa: 50/50 Hybrid
Original Breeder: Cannarado Genetics
Grower: Meraki Gardens
Dispensary: Tetra Cannabis
Sundae Driver Strain Review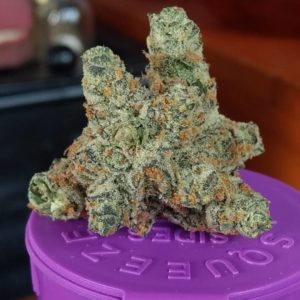 I was gonna review the Garlic Sherb from @theurbancanna and @thc.pdx today, but my buddy @fckingskurped put one out yesterday that puts anything I had planned to shame, so just read his instead. I agree with everything he says on the subject.
If you're into the dessert strains (Gelato, Ice Cream Cake, Biscotti, etc.) this is gonna be your jam. It has the syrup sweetened fruit notes you'd expect, but they share the spotlight with floral and herbal notes, almost like a chamomile-heavy nighttime tea blend.
The high for me was on the heavier end of the dessert spectrum. Not quite the thing I'd smoke to put me to sleep, but maybe while I'm watching "The Office" to wind down at the end of the day. Lots of giggles with a notable amount of munchies.
I've quite enjoyed everything I've gotten from Meraki, barring one mediocre batch of GMO like two years ago. My review of their Horchata earned me some free merch, so you know my feelings on that one. They're always worth a shot.
Also, follow @fckingskurped. He's starting to do his own reviews, and he's just as deserving of your reading time as my goofy ass. Support your local reviewer. Without us you'd have to trust the experts.
.
.
.
#thehighestcritic #sundaedriver #merakigardens #strainreview #strainreviews #weedreviews #420review #portlandcannabis #OMMP #portlandweedreviews #mmj #cannabiscommunity #oregoncannabiscommunity #portlandcannabiscommunity #oregonweedreviews #Medicate #oregoncannabis #mmjpatient #medicalmarijuana #pnwstoners #pdxstoners #flavorchaser #cannabisreviews