Vape Review: Sunday Driver Cartridge by Muha Meds
MUHA MEDS: Sunday Driver
By: @MuhaMeds.Live
Via: @terpydabber (S/O to the homie for the gift)
Lineage/Genetics: Fruity Pebbles x Grape Pie
Original Breeder: Cannarado Genetics
Brand: Muha Meds
Muha Meds Sunday Driver Cartridge Review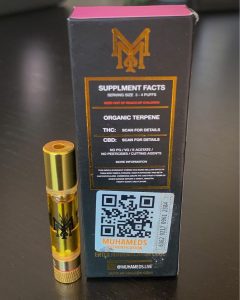 Muha Meds arrives in packaging mirroring some of the latest safety standards. Users verify their purchase via a one-use authentication code and process. The hardware is also incredibly attractive; the oil is encapsulated in a surprisingly heavy, gold cartridge with a weighted round mouthpiece. One of my favorite cartridge designs to date, for whatever it's worth.
Muha Meds Sunday Driver distillate oil has me leaving mixed reviews. On the positive hand, this oil is strong and potent. Serving size says "3-4" puffs but depending on where you're headed 1 to 2 get you a nice head change.
The cart's flavor however left more to be desired. The cart has a mild "bubblegum" flavor which I actually enjoy, but needed more. Imagine flavored water which just needs a more sweetness to hit the spot. Personal preference purely, and others could enjoy this distillate/flavor ratio.
Overall: 7.7/10
Attractive design + hard hitting oil, but a lack of flavor knocks a few points off
#Budfinder
•
•
•
•
#dcbud #dc420 #420 #dcweed #mdweed #stoner #marijuana #dccannabisculture #budtender #strainfinder #thc #dcgrown #dcgrowers #cannabisdaily #dccannabis #dcdabbers #dcedibles #puffpuffpass #dcnightlife #dmv420 #topshelf #devilslettuce #stoner #whiteashonly #cleanmeds #i71 #MuhaMeds #Sundaedriver #sundaydriver
Advertisements