Strain Review: Granimals by Phinest Cannabis
New Review time! @phinestcannabis #yee
Brand: Phinest Cannabis
Strain : Granimals
25.69%THC
Lineage/Genetics: Grape Pie x Animal Cookies
Indica or Sativa: Indica dominant hybrid
Original Breeder: Cannarado Genetics
Grower: Phinest Cannabis
Terpene Profile: Beta-Caryophyllene Dominant (β-caryophyllene | D-limonene | α-Humulene)
Certificate of Analysis: https://static1.squarespace.com/static/6090cb7c9f8d573665338c4d/t/60f1cb93d185152765a3c849/1626459030220/granimals-coa.PDF
Granimals Cannabis Cultivar (Strain) Review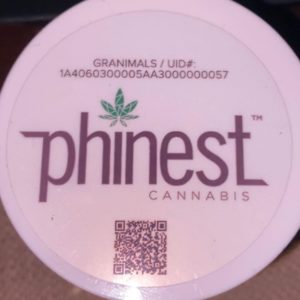 Comments: I'm familiar with them and was happy their QR code worked. 🤗 Excited to get my brain on zero with this batch of Phinest fo sho!!
Review
1. Scent: In jar is muted. Just kinda organic leaf/generic "weed" smell with a bit of berry/purple notes. It's on break down that the nugs drop that heavy smell of purple dank and more spices.
2. Appearance: Beautiful trim. Trichomes and purple run rampant across this strain. I'm looking forward to adding this to my collection.
3. Nug Structure: Dry. Will need rehydration but the buds didn't dust on breakdown by hand. I'm actually wondering if it's because the weather in Sac has been balls hot lately. Esp when this was packaged (6/15/2020). Didn't rehydrate few days later and the nugs did dry out (or cure depending on your gift of gab) but didn't crumble into dust.
4. Smoke: Smooth; I'm finding the cured bud isn't tasting dry or harsh on the pallet. Smoother off the bubbler with an extra percolator, feeling good off the draw.
5. Taste: Little bit of berry, some pine and kush/cookies vibrations. These notes still remain a few moments after smoking when exhaling through your nose. Pretty trippy. Lost the peppery notes tho.
6. Reaction: Sailing nicely on clouds. No body pain and slight cloudiness behind the eyebrows. My lids themselves are slightly dimmed but the brain is full power during this write up. I'll add more once I do some yard work in this heat. About an hour after typing that I gave up and started cooling off inside. The high was decently long for the manual labor I was doin but that Norcal summer isn't fun to work in today. Props to all those in the fields doin work for us.
#cannabiscommunity #cannabis #cannabisreviews #trees #weed #weedreviews #pot #potreviews #thc #sacramento #916 #420 #yee #legal #strainreview #california #valley #thehighestcritic #granimals #phinest #vho #buylegalweed #prop64
Advertisements