Strain Review: Rainbow Sherbert #11 by Deep East
Rainbow Sherbert #11 akaRS #11
Lineage/Genetics: 𝕆ℤ𝕂 𝔾𝕦𝕒𝕧𝕒 𝕧𝟚 x 𝕊𝕦𝕟𝕤𝕖𝕥 𝕊𝕙𝕖𝕣𝕓𝕖𝕣𝕥 𝕓𝕩𝟙
Original Breeder: Deep East
Grower: Wizard Trees Farm
Via @doja.pak
Bred/Created by @deofarms
Grown/Cultivated by @wizard_trees
Gifted by @dope_dynastydc
Rainbow Sherbert #11 Strain Review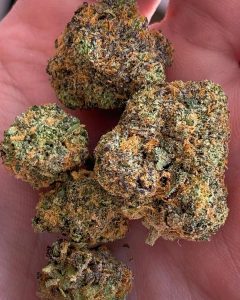 Appearance: RS 11 possesses a dense, clustered bud structure with a rich marbling of sweet grass green and violet/sangria purples. Tiger orange pistils erupt throughout with an eye catching pop. Frosty to the eye and dusty to the touch, RS 11 passes all the tests of a quality cut of cannabis.
Taste: RS 11 really shines on the inhale exhibit both gas and candy flavor. Expect a thick, 'frosty' berry and sweet pine flavor with a kick of malty fuel on the back end. RS 11 is the perfect blend of zkittelz/sherbert terps and fruitiness with a surprisingly strong OG gas that lingers in the lips long after. One of my favorite smokes of 2020.
Effect: Quickly and intensely cerebral, RS 11 provides a cloudy, "invade your thoughts" high which I found to have a early burst of energy, soon followed by a long lasting numbing haze. Body effects are a bit more subtle with a heavy, yet functional grip further supplemented by a heavy dose of physical alleviation.
A masterpiece from start to finish, RS 11 is a must try for all connoisseurs. Seemingly fully dialed in, RS 11 has that rare combination of terps, potency, and effect which makes this one a strain to remember.
#Budfinder
•
•
•
•
#dcbud #dc420 #420 #dcweed #mdweed #stoner #marijuana #dccannabisculture #budtender #strainfinder #thc #dcgrown #dcgrowers #cannabisdaily #dccannabis #dcdabbers #puffpuffpass #dcnightlife #dmv420 #topshelf #devilslettuce #stoner #whiteashonly #cleanmeds #i71 #doja #wizardtrees #rs11 #rainbowsherbert
Advertisements