Strain Review: Ice Cream Cake by Claybourne Co.
Strain: Ice Cream Cake
Lineage: Gelato #33 X Wedding Cake
Original Breeder: Seed Junky Genetics @seedjunky.hq
Cultivator/Distribution: Claybourne Co. @claybourne_co
Terpene Profile: Beta Caryophyllene Dominant
Dispensary: Grassdoor @trygrassdoor @grassdoordelivers
Claybourne Co. Ice Cream Cake Cannabis Cultivar (Strain) Review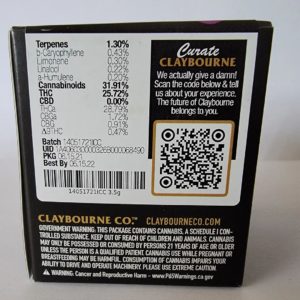 Genetic Type: Indica
Cannabinoids: Total: 31.91% THC: 25.72% CBD 0.0%
Harvest/Package Date: 6/15/21 (Discounted item)
*DISCLAIMER* This was purchased from a delivery service during a 4/20 sale and I was unaware of the package date. Even though the quality packaging managed to retain most of the flowers integrity, this is not the most accurate representation of Claybourne's flower. That said, since it was still smokable here are my thoughts.
Look: 6 good sized nugs and 3 popcorn nugs filled this jar. Nice tight bud structure of deep rich purples and vibrant forest and lime greens. Full even coverage of golden yellow trichomes and bright orange pistillates
Scent/Flavor: Hit with a sweet vanilla cake right off the bat. A little nuttiness, creamy and slight hint of cheese. Sort of an unbaked sugar cookie dough. Get a tangy earthy inhale with a peppery undertone followed by some fruity citrus.
Effects: Hits almost immediately, very calming and relaxing just as to be expected from an Indica. Strong sedation and mind easing effects which is perfect for an end of the day smoke. Some nice muscle and joint pain relief quickly followed. Can see this flower being good for those suffering from insomnia or general body aches.
.
.
.
.
.
𝔸𝕝𝕝 𝕡𝕣𝕠𝕕𝕦𝕔𝕥𝕤 𝕡𝕠𝕤𝕥𝕖𝕕 𝕨𝕖𝕣𝕖 𝕠𝕓𝕥𝕒𝕚𝕟𝕖𝕕 𝕗𝕣𝕠𝕞 𝕒 𝕃𝔼𝔾𝔸𝕃/𝕃𝕀ℂ𝔼ℕ𝕊𝔼𝔻 ℂ𝔸𝕃𝕀𝔽𝕆ℝℕ𝕀𝔸 𝔻𝕀𝕊𝕋ℝ𝕀𝔹𝕌𝕋𝕆ℝ 𝕒𝕟𝕕 𝕒𝕣𝕖 𝕤𝕙𝕒𝕣𝕖𝕕 𝕗𝕠𝕣 𝔼𝔻𝕌ℂ𝔸𝕋𝕀𝕆ℕ𝔸𝕃 𝕒𝕟𝕕 𝔻𝕆ℂ𝕌𝕄𝔼ℕ𝕋𝔸𝕋𝕀𝕆ℕ 𝕡𝕦𝕣𝕡𝕠𝕤𝕖𝕤 𝕠𝕟𝕝𝕪. 𝔹𝕖 𝕤𝕦𝕣𝕖 𝕥𝕠 𝕗𝕠𝕝𝕝𝕠𝕨 @NorCalCannaBear 𝕗𝕠𝕣 𝕞𝕠𝕣𝕖!
.
.
.
.
.
#NorCal #CannaBear #TheHighBearNation #CannabisCommunity #CannabisCulture #CannabisReview #WeedReview #TheSmokersClub #420 #420Daily #420Community #PremiumCannabis #LuxuryCannabis #CannabisIndustry #CannabisPics #WeedPics #PotPics #PuffPuffPass #California #CaliforniaDispensary #BayArea #BayAreaCannabis
Advertisements