Dab Review: Stardawg Pie #9 Live Rosin by 710 Labs
QUICK HIT REVIEW
I hope @710labs is not peeved by my posting.😳 Seems like everyday i have 710's rosin or hash in my COMA J reviews/posts.
***STARDAWG PIE #9 LIVE ROSIN*** by the one and only @710labs. The genetic profile is *STARDAWG* (Chemdawg 4 x Tres Dog) x Grape Pie (Grape Stomper x Cherry Pie)–If im mistaken and the genetics differ, please feel free to correct me and ill update it–
Lineage/Genetics: Stardawg x Grape Pie
Original Breeder: 710 Labs
Grower/Proecessor: 710 Labs
Terpene Profile: Unknown
710 Labs Stardawg Pie #9 Live Rosin Review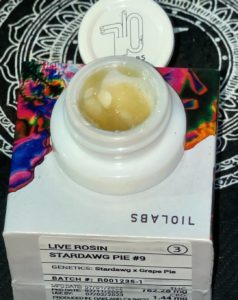 COLOR/CONSISTENCY- The consistency is almost a stable shatter. Even at room temp pieces can snap and go flying off into the unknown, the place where dropped bowls and dabs disappear. I think theres a dab monster under stoners' beds tht snatch up any dropped goodies 😄
The color is a high yellow and translucent which makes for great 'bag appeal'.
FLAVOR/SCENT- Flavor and scent are very indicative of the parental lines' and their scents. You get a musty kind of earthy, pine scent with hints of petrol, berry and grape. Accurate scent/flavor transference. This means tht you will taste the same tones as you are smelling. A lot of flowers and concentrates might be loud as hell but when you toke the flavor goes missing.
EFFECTS/QUALITY OF SMOKE- This one is not very debilitating and is perfect for wake and bake or daytime lunch break. Its slightly space and heady but not dissociative. Has a pleasant body feel to it, but not couch locking at all. The Stardawg Pie provides for a pleasant, uplifting experience without any negative features that could serve to disqualify the rosin. Sometimes jst that one deal breaker feature makes a possibly good smoke immediately disqualified. For example- a chemmie taste indicative of commercial grows that use sprays and chemicals.
I enjoyed this offering from 710 Labs. I often times dont really pay much attention to the Tier rating system as a lot of my faves are tier 2/3.
#weedxwagyu #weedandwagyu #710labs #rosin #liverosin #solventless #solventlesslife #hream #stardawg #stardawgpie #cannabis #maryj #livingsoil #organic #soiltoillife👊 #singlesourcemelt #marijuana #710 #rosinlife
Advertisements