Strain Review: Cereal Milk by Cannabiotix
Happy Saturday! New Review let's do this!
. Scooped from:
. @lemonnadesacramento
. @cannabiotix
. @westcoastsmokeshow
#cerealmilk
.
Brand: Cannabiotix
Strain: Cereal Milk
Lineage/Genetics: Strawberry Lemonade ❎ Thicc Mint Cookies *Phenotype 15
Original Breeder: Limited Tree Genetics
Grower: Cannabiotix
Dispensary: Lemonnade Sacramento
Cannabiotix Cereal Milk Strain Review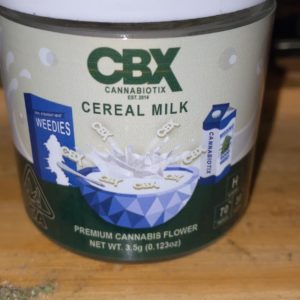 30.38%THC
Comments: Been a long time looking at this brand from a far. Top shelf, mostly a curiosity pick up because of multiple IG reviews about it…just good visuals and reviews so I knew others loved them. Why not.
Review
1. Scent: Pine earth rubbery gas type of sensation. Creamy vanilla hues overall as well. Very pleasant aroma even several days after.
2. Appearance: Shining like I mean Jesus on Broadway. Red white green, take your pick it all intertwined and just absolutely crawling with trichomes. Would be nuts if squished for hash but I ain't gonna do that to my 8th.
3. Nug Structure: Rugged due to huge hairs and lots of sticky trichomes leaching out. The grinder or by hand, it's looking magical and yummy.
4. Smoke: Warm to hot rip on the nose and throat. Def cough off the bong but a little smoother off bubbler. Noticing higher THC strains hit the lungs with something different, power.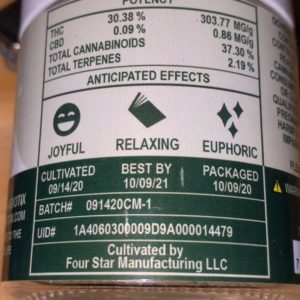 5. Taste: Warm woody vanilla tree. Little cream on the back of the tongue for sweetness. Other than the coughing it's a nice taste on the palate.
6. Reaction: Mind is blurry slightly. Body pain is lowering at last but there def some increased senses to sound I'm finding. Trippin to say the least. Took one rip and made dinner, which was me just standing in the kitchen like a zombie while the lady did all the cooking. Lmfaooooooo
7. Conclusion: High THC can be overwhelming but this left me feeling lifted and relaxed, not paranoid or feeling too stoned. A nice taste and sticky buds leaves me impressed for sure. I've seen them around and haven't scooped, but I saw quite a bit of other friends I follow on IG share good times, so I had to give it my two cents. #Entourageeffect Would scoop every time if available ✅
#cannabiscommunity #cannabis #cannabisreviews #trees #weed #weedreviews #pot #potreviews #thc #sacramento #916 #420 #yee #legal #strainreview #california #valley #thehighestcritic #westcoastsmokeshow #loud #cbx #cerealmilk #gas #fire #topshelf