Strain Review: G-Mints by SF Cultivators
New Review! @sfcultivators #gmints Sf Cultivators G-Mints – 31%THC
Lineage/Genetics: Gelato #33 x (Cookies and Cream x Mint Chocolate Chip)
Indica or Sativa: Indica dominant Hybrid
Original Breeder: SF Cultivators
Grower: SF Cultivators
G-Mints Strain Review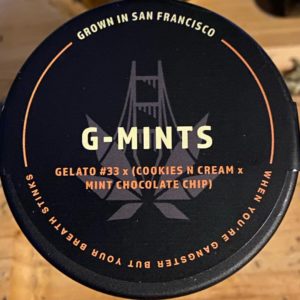 Comments:
First time tryin this flavor outta San Francisco. G-Mints is a smooth stone with a great nose and left me in the clouds. Able to function but would also enjoy a good show or just chill.
Review:
1. Scent: Rich chocolate like flavor, sugary mint is left on my fingers after breakdown. Very slight fruit scent from gelato. Should be interesting.
2. Appearance: Frosty as hell on this indo, the red hairs are sporadic-mixed with orange ones. Bunch of purple and an array of green shimmers off the money nug.
3. Nug Structure: Dense nugs to break by hand. There is a ton of resinous spots that leave your fingers sticky. Did the hand break to start, will need the grinder for future bowls.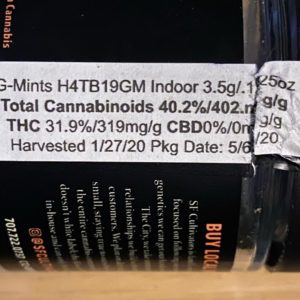 4. Smoke: Thick full bodied smooth in and smooth out. No cough off the bong, filled the room no prob. Should have turned on the fan. Lol.
5. Taste: Using a new method of not inhaling a rip to taste the smoke proper reveals sweet notes. Chocolate and cream. Slight fruit but it is muted on the back end.
6. Reaction: Quick on the head flip and I had a slight couch lock immediately after, 10-15 mins before moving around for cooking. Wild ass meal! Could recommend before doing something creative or a nice chill out relaxation vibe. Came back to this one a lot. Def a new repeat offender to look for.
#cannabiscommunity #cannabis #cannabisreviews #trees #weed #weedreviews #pot #potreviews #marijuana #marijuanareviews #thc #sacramento #916 #420 #yee #legal #415 #sf #exotic
Advertisements