Strain Review: Ca$h Cookies by Kush Rush Exotics
Cash's Cookies aka CA$H COOKIES
By: @kushrush_exotics @uncle_kush408
Via: @24k_exotics
Cash's Cookies: OG Kush x Durban Poison
Original Breeder: Cookies Fam Genetics
Grower: Kush Rush Exotics
Cash's Cookies Strain Review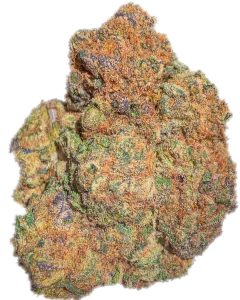 Today we take the first look at Ca$h Cookies, another exclusive Kush Rush Exotics strain dropping at @24k_exotics this weekend. Off the bat, Ca$h Cookies stands out from the crowd given its beefy, tightly clustered buds. One heavy nug (pictures here) made up almost the entire eighth. Ca$h Cookies alternates between shades of forest green (mainly in the sugar leaves) and lawn green colors. Mixed throughout are splashes of a lovely blue-violet, amidst a field of plentiful rust colored pistils. Seemingly only a subtle dusty coating from the outside, the trichomes on Ca$h Cookies really pop when breaking the bud apart and the grind itself was surprisingly resinous.
The nose and flavor on Ca$h Cookies:
Sweet, slightly sour cookie and slightly creamy cheese on the inhale. The exhale maintains that sour cookie bite but introduces a familiar, yet heavy earthy gas to the equation. Despite an incredibly smooth draw, this type of pressure is guaranteed to cause a cough or two throughout your smoke. To be honest, this strain was an incredibly refreshing change of pace from fruitier exotics — Ca$h Cookies is more reminiscent of that classic fuel.
Ca$h Cookies was undoubtedly fast-acting, yet ironically, the initial effect was a warmth and tingle slowly 'burning' its way through the entire body. The high eventually rises and settles in a halo like ring around the head, melding into heavy introspective mind glaze which I found to be quite long lasting. Throughout the trip. I found myself highly lazy and tied to my seat, weighty limbs and all. Serious knockout potential with this one. Smoke carefully, enjoy mightily 😈
#Budfinder
•
•
•
•
#dcbud #dc420 #420 #dcweed #mdweed #stoner #marijuana #dccannabisculture #strainfinder #thc #dccannabis #dcdabbers #puffpuffpass #dopesmoke #dmv420 #topshelf #stoner #whiteashonly #cleanmeds #i71 #kushrush #cashcookies #kushrushexotics
Advertisements