Strain Review: Gushers by Sweetwater Pharms
New post about the @sweetwaterpharms Sweetwater Pharms Gushers #gushers.
Lineage/Genetics: Gelato #41 x Triangle Kush
Indica or Sativa: Indica dominant Hybrid
Original Breeder: Cookies Fam Genetics
Grower: Sweetwater Pharms
Gushers Strain Review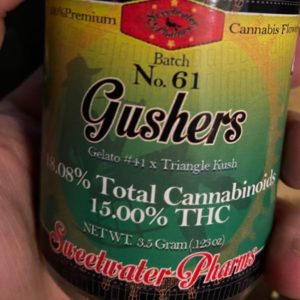 Coming in at 15% #thc this mid shelf purple had me pumped tbh! I love a good purp strain and this did not disappoint. Opening the jar brings refreshing dark berries. Slight citrus taste that I know from the Gelato, which seems to be in everything now, along with good ole pine Kush. The nugs look more green than purple at first glance but on break down, you just see purple and red hairs everywhere.
Did not need to add orange peel to this guy at all. Decent amount of kief caught but this bud wasn't dry and crackly. Deep cough on rip from the bong. Had me spaces for a mild 30-45 for the session. Nice pick up for an everyday/all day smoke.
#cannabiscommunity #cannabis #cannabisculture #cannabisreviews #weed #weedreviews #sacramento #916 #yee
Advertisements