Strain Review: G-LOC by Rio Vista Farms
Yee another one @riovistafarms came through and I LOVED this G-LOC strain.
Lineage/Genetics: Gorilla Glue x Mendo breath x OGKB
Indica or Sativa: Indica dominant Hybrid
Original Breeder: Rio Vista Farms
Grower: Rio Vista Farms
G-LOC Strain Review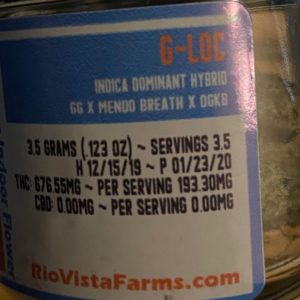 On the nose, full flavor of pine, some gassy citrus fuel that brings back a memory of a cleaned counter top. Minus the Clorox for sure. 😆
On breakdown, more Skunk gas pine scent with calm orange zesty hints.
Smoke is clean on the throat and the overall taste brings out skunky Gorilla Glue/Kushy pine and no cough. The high is not instant but within 15 mins has you trippin. Easily relaxed for a good night's sleep or if you are looking for a nice show to zone out to, pick this bud up.
The website from Rio says its an Indica but the jar says "indica leaning hybrid" but there wasn't much of an upper feel; it def brought me to satisfaction level I needed just before bed tho!
Comes in at a steady #19%THC
#420 #weed #weedreviews #cannabiscommunity #cannabis #cannabisreviews #yee #sacramento #916
Advertisements