Strain Review: Mai Tai by Sessions Supply Co.
Oh shit! @sessionssupply be making moves this month. I got their Mai Tai strain #maitai a while back and forgot to submit this review so here we roll with it.
Lineage/Genetics: Miami Vice x California Dreams
Indica or Sativa: 50/50 Hybrid
Original Breeder: Sterquiliniis Seed Supply
Grower: Sessions Supply Co.
Mai Tai Strain Review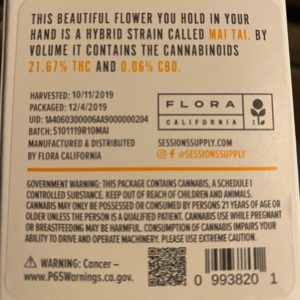 Dropping by my local shops, this brand was good last round so I made the move to try a different strain. Opening the jar is a rush of tropical fruit like mango maybe.
First round of hits were slight harsh taste but the and hit was amazing fruit punchy like blend. Nugs are tightly packed, no leaf matter at all. Didn't have much success with hand breaking so opted to use the grinder for this strain.
Kief was minimal on the catcher; this tree had a decent amount of moisture left. It's noticeable that the nugs release more fragrance of damp fruit on break down. Think of the store where oranges/pineapples are just in the middle on a bin vs in a rack that was just hit with a little bit of mist.
Purple sprites, deep olive green hue, burnt red and orange hairs with a Smacking flavor profile bowl after bowl, it was a welcomed addition to the collection. Not overthinking stuff but not couch locked.
Great balanced hybrid.
#weed #weedreviews #cannabiscommunity #cannabis #cannabisreviews #420 #trees #california #pot #sacramento #916 #yee
Advertisements