Strain Review: Mercury OG by Sessions Supply
New Review Alert! @sessionssupply coming out with Mercury OG #MercuryOG
Lineage/Genetics: Unknown
Indica or Sativa: Indica dominant Hybrid
Original Breeder: Unknown
Grower: Sessions Supply
Mercury OG Strain Review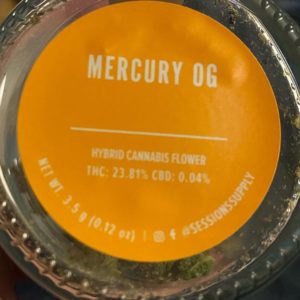 Topping off around 23% with deep Kush nose and nicely packed nugs. First time trying them so I had to take the #pepsichallenge on this one. Nice looking bud tbh. Glowing slightly orange/red hairs with multiple purple/dark green leaves. Covered decently with trichomes it broke apart with no issue by hand and I finished the jar using the grinder each bong load over the past week or so.
Out of all the flavors from this past purchase, this one was gone first. 😆 Smelled like that familiar Kush, pine and some citrus. Smoke is rich/frothy. A little harsh but nothing out of the ordinary. The taste was pine, a hint of pepper and citrus.
Great for body and mind stone 7-10 mins in. Girlfriend approved so this is one to keep in rotation at our place.
Can't remember what the price was out the door but it was not priced higher than $50.
#weed #cannabis #cannabiscommunity #cannabisreviews #weedreviews #norcal420 #sacramento #916 #review
Advertisements