Strain Review: Han Solo Burger by High Grade Farms
Welp. This review is going to be a bit long. @high_grade_farms Han Solo Burger #hansoloburger has a high THC content but the purchase with tax did not equate to the experience I've had with cheaper priced and lower THC weed.
Lineage/Genetics: GMO Cookies x Larry OG
Indica or Sativa: Indica dominant Hybrid
Original Breeder: Skunk House Genetics
Grower: High Grade Farms
Dispensary: The Sanctuary
Han Solo Burger Strain Review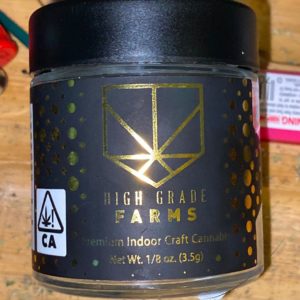 This strain just did not taste right. I realize the time, effort, blood, sweat and tears that go into the trees, but when it tastes like a clean room with a bleached/chlorine under tones it is a real turn off.
I visited a new club @thesanctuarysacramento and was stoked they were close to home but a bit off the beaten path. The club is huge with a sitting area and a wide open display to smell and inspect weed.
This was pushed by the bud tender and below are the notes I jotted down from that experience along with the weed profile.
Sorry guys, it's def a #skip. 😭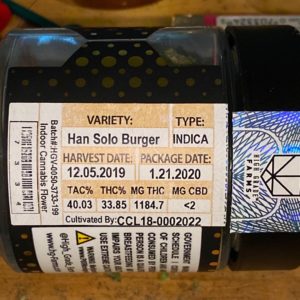 1. different comments from different bud tenders. One said the taste was great. The other said it was all nutes and they didn't flush the plant properly before harvesting which results in harsher rips from a bong.
2. My Lady advised, not a fan of this flavor. 🤷‍♀️. So I had two people telling me two different things at the club; shoulda went with the gut and skipped the strain tbh.
3. Off the nose, they smell like a little jack vibe. Musky metal mixed@with clean room/chemical hits.
4. Smoke was def harsh. It leaves almost like a film on the back of the tongue, switching between cold berry seeds.
5. Head change was felt roughy 4-5 mins in, with heavy body sedation.
6. 30 mins later Stoney for sure
7. Another bowl lady said doesn't taste like weed; some other herb.
8. After some googling, that nutrition taste is not uncommon for indoor grows that don't flush all the way through. I know the effort that goes into getting me this jar filled with weed, so some grower insight would be appreciated esp since the taste is a lil weird. To conclude, I'd be hard pressed to not finish a jar that was $60 pre tax but it really was not pleasant at all. I'm forcing myself to pack bowls for myself cuz the lady refuses to smoke this.
I try to bring home the best every time and failed on this trip… Bummer.
#weed #weedreviews #cannabiscommunity #cannabisreviews #sacramento #916 #420 #trees #nutes #nofilter
Advertisements