Cultivar Review: Gello by Pleasant Effects
Gello – @pleasanteffects
Nose: Sweet, piney, citrus, floral, earthy, burnt rubber
Inhale: Gassy, piney, floral, fruity, sour
Exhale: Piney, sweet, citrus, musty, woody, floral
Genetics 🧬: Gelato 41 x Larry OG
Bred by: Superior Flowers @superior.flowers
Cultivated by: Pleasant Effects
Terpene Profile: Unknown
Gello Cannabis Cultivar (Strain) Review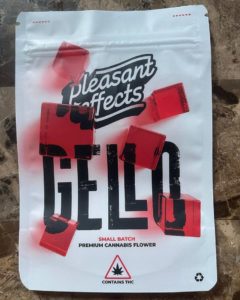 Hey what's up Everyone? Happy Friday Jr! I hope you all are having a fantastic week. Today, I have a long-anticipated review from someone who had shown interest in the page as early as last Christmas. Naturally, with everything that's been going on this year it's taken a little time to coordinate a few cultivars to review for Pleasant Effects. Its not everyday I get to cover small batch content, especially when it hails from Rhode Island, but today that will change. Having been at the craft for 18 years, Pleasant Effects has done it all from growing to extractions and even consulting. His pledge is to cultivate weed that excites the consumer as well as reflecting the hard work put into the process of cultivation. Recently, he has been teasing three different cultivars which include Gello, Apples & Bananas, and Danimals. I decided to try all three and will start by diving into the Gello on this review. Featuring a cross between Gelato 41 and Larry OG, I have personally never tried this before but had a hunch this cultivar would unleash two paralells. Anytime I discover these candy/fruit and gas crosses within the lineage I tend to get a little more excited than normal. Let's waste no more time and get into the facts!
The Gello was presented in a very sleek and stellar Mylar packaging. Not to mention the bag was direct-to-print giving it a professional touch. The design displayed a simple white, red and black colorway with squarely sliced Jello cubes depicted on front. This design was very simple but I think the 3D imagery is what caught my attention. Apart from that, I didn't see too much else that stood out but I personally though the packaging was really well done on this.
Upon opening up the seal on the Mylar packaging containing the Gello, I was brought about a moderately earthy smell with faint undertones of pine and citrus. These notes were too generic to put my finger on anything specific during my first impressions. Healthy looking, medium-sized nugs were displaced as I shook them out of the bag onto my rolling tray. Consisting of a rough, bristly texture with a good amount of density the nugs were prickly on the skin when held in hand. Made up of an even mixture of dull violet as well as a combination of lime green to forest colored body, I thought the aesthetics when holding close were pretty fair. What really made this one for me was the simple appearance of trichomes that dazzled from afar with the bright orange pistils presented with clarity. Everything, for the most part, seemed really well put together for this cultivar. As I proceeded to crack on of the nugs open, the smell picked up a bit. The smell of fuel and cinnamon pears were the first scents I honed in on when doing these with a zesty finish of pepperjack and floral notes that gave it somewhat of a meaty, but refreshing, back end. In general, the buds were a little rough when breaking down by hand but, nevertheless, I preferred doing this more so than using a grinder for the Gello. Even after breaking the buds down I was fixated on that ripe pear smell as well as notes of burnt rubber from the fuel smell felt when cracking them open. The nose on this cultivar unified the lineage as it gave off those mild, but distinct, lemon terps found in Larry OG with those gassier notes of fruit and floral commonly found in 41. Once I took a dry pull of the joint, a flavorful mix of floral and lemon grass hit my lips leaving a pretty pungent aftertaste of almonds and pine.
When I sparked the Gello in an Organic RAW, the initial inhales were super gassy throwing off legitimate mouth-watering pine terps forming a small pond in my mouth. A smooth mix of pine, floral and generic fruit terps laced the pulls the first quarter of the way into the sesh.
On the way out, I received a bit sweeter taste although that heavy pine taste left on breath, which carried over from the inhale, just made the smoke somewhat raunchy. Nonetheless, there additionally was a moderate dose of citrus notes that cut the gassiness on the way out, giving it a delectable finish. The more the sesh went on I started to notice both citrus and floral terps on the exhale intertwining throwing off slight hints of grapefruit. As taste became a little more sour while letting the smoke in I still couldn't really get over that obnoxious pine taste. Nearing the halfway point in the sesh is where I noticed the citrus terps on the finish turn a bit sweeter. The turning point was when I gained a sense of tangie from those citrus terps being thrown off which, ultimately, culminated in a sweet clementine flavor amongst all that gas. The burn was near flawless as it paced fairly slow but fed off monstrous hits. This ensued in a thick, paper-mâché white colored ash accompanied by spotted terp bubbles on the side of the joint. Within the second half of the sesh, I didn't notice too much change in flavor as those citrus and pine terps remained in formation. The only thing that caught my attention was a slight guava taste on some of the pulls in the concluding stages. I personally thought the Gello brought about a collage of various flavors down to the stem which, in the end, led to somewhat of a cutting-edge flavor. Between the gassiness from the OG and the fruity flavors eluding from the 41 made this cultivar a potential fan favorite.
The onset of medicinal effects from the Gello did not take long at all to leave my lower body rooted to the couch. Within the second half of the sesh I felt both my mind and body become extraordinarily mellow. My thoughts started to fade out as I felt an overall cloudy sensation take over my mind. The first half hour settled in a deep euphoria that crept from my shoulders to my thighs.
Enjoying this cultivar on the roof deck under the sun added to the experienced. Having the urge to unplug, I continued to unwind due to the effects as I noticed my limbs starting to numb and my mind becoming increasingly weary. Although this was not exactly KO medicine, this certainly was not a high I necessarily felt the need to be overly social when under the influence of. I also thought of the effects to be considerably lasting as they cast their spell for a near two hours or so. The overall experience was equally sedating as it was potent. I rode out the last hour or so in which the effects lasted by cooling out. The Gello worked wonders as a night cap or on those weekend afternoons where there wasn't much to get done. I don't have too much bad to say about the space this cultivar put me in as it got me just right.
After having a chance to finally try my first offering from Pleasant Effects I think it's safe to say it lived up to expectations. Gello, for me, was one of those cultivars that presented well-rounded qualities from the moment I took it out of the bag until the medicinal effects wore off. To start, the aesthetics were simple, yet flashy, and the nose was pungent once a nug or two was cracked open. Smoking this was a real treat and the highlight of the experience, in my opinion. The perfect blend of hard-hitting gas notes with a mix of distinguished citrus and floral terps made for an all-around sesh. Personally, this cultivar I expect to be a hit for a wide array of smokers given its qualities. The scary thing is, I think the terps have even more potential down the road the more dialed in they become. As for the effects, you're in luck if you're looking for a night in. The Gello will work wonders for anyone suffering from anger, depression, mood swings, or simply a flat out shitty day. Additionally, I believe this would serve as a remedy for those struggling with anxiety, insomnia, appetite loss, amongst other things. I want to thank Pleasant Effects for finally setting aside a time to make this happen. I am going to do a back-to-back feature with him and host his Apples n Bananas within the next few days.