Cultivar Review: Lemon Cherry Pie from Terpz n Hunnitz
Lemon Cherry Pie – @terpz_hunnitz617
Nose: Citrus/orange, tangy, musty, woody, sweet, creamy, nutty
Inhale: Tart, citrus, floral, creamy, sweet, diesel
Exhale: musty, citrus, tangy, sour, doughy, nutty
Lineage/Genetics 🧬: Lemon Cherry Gelato x Georgia Pie
Bred by: Raw Genetics (original breeder)
Cultivated by: Undisclosed
Terpene Profile: Unknown
Brand: Terpz n Hunnitz
Lemon Cherry Pie Cannabis Cultivar (Strain) Review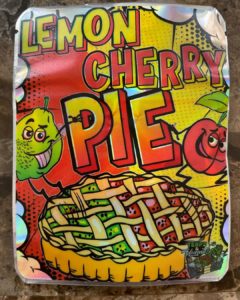 Hey what's up everyone? Happy Sunday! First time in awhile I've gone back-to-back but I have another review as I open the chest back up. This one is the final installment in a long-series I've covered for Terpz n Hunnitz which features the Lemon Cherry Pie he gifted me. Out of all the samples he showed me beforehand, this one peaked my curiosity the most. Featuring a cross of Lemon Cherry Gelato and Georgia Pie, I have never personally tried this cultivar before. However, I was expecting this to be more along the lines of a sweet, creamy smoke with moderate effects. Having tried both cultivars within the lineage individually I was quite excited as I personally never knew the strain existed. After enjoying the majority of stuff received from Terpz n Hunnitz I was confident this would strike while the iron is hot. Let's waste no more time and get into the facts!
I received the Lemon Cherry Pie in a standard, square Mylar bag similar to how the other offerings were presented. Out of all the various cover art I thought this was the most detail-oriented and probably the best. Starting with the durable printing material, this just had somewhat of an upscale appeal. Featuring a comic book appearance in the background the display contained a visual of a lemon on the left side (when facing) and a Cherry on the right. This was all between a split colorway of red and yellow. The lemon almost looked like a lime while at the bottom lay a gigantic pie with a greed and red display within. Overall, this was eye capturing in my opinion.
As I proceeded to open up the seal on the packaging, I was immediately hit with a strong, distinct orange citrus smell that came with a sweet, musty overtone. I additionally noted sweet creamy and piney notes to go along with hint of wood. The quarter I received was made up of about 6-7 medium-sized to larger sized nugs with about 8-9g total (thank you!). I personally wasn't a big fan on the aesthetics as these nugs appeared to be pretty mangled from transport. However, I still could make out some of the pistils without zoning completely in on this cultivars darker purple colorway. Within the mix I spotted a few darker green leafy spots but you could spot the purped out appeal on the Lemon Cherry Pie a mile away. I can't forget to mention that this was all under what I would call a significantly underwhelming display of triches you had to use the mag jar to make outS. The nugs felt soft holding them in hand as they consisted mainly of a fluffy texture with some shaggy spots due to dried out leaves that hung off. Still, this cultivar had a fair amount of density to it which made it tougher pulling apart in certain areas. Cracking the nugs open produced somewhat of a lemon smell to accompany amplified orange citrusy terps. Breaking down this bud was feasible by hand and, ultimately, gave me the best yield. Upon doing so, I spotted faint earthy and musty aromas withdrawing that distinct orange smell experienced when the bud was in solid form. The dry pull on the joint gave off a creamy, oak-like concoction blending in both orange and lemon citrus terps.
When I sparked the Lemon Cherry Pie in an Organic RAW, the initial inhales were packed with tart notes of citrus throwing off mild tangie terps to compliment a refereshing floral taste.
I additionally noted a faint wood taste in the mix of these other flavors. On the way out, I experienced heavy musty taste paired with lemon citrus and faint strawberry notes culminating in slight dough terps as well. This ultimately left a sweet and savory floral taste on the tongue with light citrus terps lingering on my taste buds. The pulls were moderate giving this cultivar a very smooth appeal early on into the sesh. A little ways in, about a quarter, is when I felt those citrus notes starting to flare up a bit creating a gassy layer between each pull. Nearing the halfway mark the citrus terps I've been mention became gradually oily leading to a lip-smacking sour taste, leveling out those sweeter, doughier notes. However, I wouldn't say this was a pressuresome smoke by any stretch of the imagination. If anything, I believe the Georgia Pie within the lineage stood out the most as those sweet, doughy layers with reminisce of pinenuts on the aftertaste called for a light and durable smoke. The Lemon Cherry Pie had a pretty decent burn to it resulting in lighter grey ash with periodic flashes of white in it. On top of that, a thick terp ring surrounded the joint oozing out tiny bubbles in the process. Nearing the tail end of the sesh, the joint remained oil, feeding off those sour and tangy tangie terps. At this point, the exhales were a bit stronger leaving a zesty, somewhat spicy, floral taste on my tongue. I feel like this could've been due to the LCG in the lineage but not entirely sure. All in all, I definitely felt like the flavor was on point with this cultivar, however, the potency could've used a little work. Concluding the sesh, I felt like this was a doable smoke but didn't check all boxes.
The medicinal effects the Lemon Cherry Pie struck with mildly energizing effects. Within the first 15-20 minutes within the onset of effects, this cultivar provided a heavy cerebral feel within my head producing not only a spark of creativity but an urgency to be active.
This was very useful in the morning time with a cup of coffee as well as before a run or working out. I felt increased perception including enhanced attention to detail while under the influence of this cultivar. Although I felt some butterflies within my stomach about 30-40 minutes into this one, I didn't feel bogged down at all by any overpowering euphoria. I also realized this improved aches felt within my muscles and joints thorough the course of the high. While I did take exception to how I felt on this my complaint was that this only lasted an hour. By the time I started enjoying the effects they were merely gone and I was left in the mood to light up another. This could've been a result of the batching needing more dialing but that was takeaway. Nonetheless, this did provide decent daytime effects especially for those occasions I need a spark.
After having a chance to try the Lemon Cherry Pie assisted by Terpz and Hunnitz, I wouldn't say I disliked this but I didn't feel it proved itself as much as others did, such as the Gary Payton and Italian Ice. While holding likeable qualities such as a distinguished nose, flavorful terp profile, and energizing effects I also feel like some boxes were left unchecked. I thought areas this lacked cultivar lacked was potency of smoke, potency of effects, and partially its appearance. Despite this, I still think the terp profile of the Lemon Cherry Pie will appeal to smokers looking for a lighter, sweet tasting experience enriched with soft, creamy notes among other flavors. Additionally, the effects this cultivar led to will favor those who enjoy an energizing high. Although I didn't believe the effects were durable enough for my liking this may be different for other consumers. I believe this will come in clutch for those going through depression, mood swings or any mood-related illness effecting daily activities. I wanted to thank Terpz n Hunnitz again for all the various offerings and hooking up each one with extra. We'll see more from him down the road.