Strain Review: Candy Beach
Candy Beach – @deepinthebag.official x @official_baysfinest30
Nose: Candy, sweet, floral, piney, earthy, nutty
Inhale: Candy, citrus, floral, diesel, piney
Exhale: Candy, citrus, tangy, musty nutty
Genetics 🧬: Lemon Cherry Gelato x Pink Runtz
Bred by: Waiting on confirmation
Cultivated by: Waiting on confirmation
Terpene Profile: Unknown
Candy Beach Cannabis Cultivar Review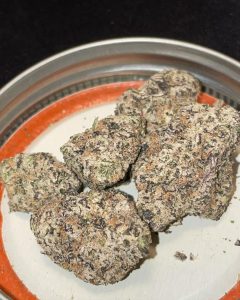 Hey what's up everyone? It's Saturday and you already know that I have another review ready to go for you all. Today I have two new first-timers from the Bay Area on a collaboration together. This will feature none other than Deep in the Bag 415 and Bays Finest 30. I couldn't dig up a whole lot of background on either brand, however, a lot of these traditional market-slash-lifestyle brands have been making their way Eastward and I've seen these guys in the mix a lot lately. One thing that caught my attention is the niche both of these brands have built around various candy crosses both through collaborations and their own releases, respectively. The Candy Beach strain they boast, which features a cross between Lemon Cherry Gelato and Pink Runtz that I will go over today I've heard is one of the more flavorful profiles in their catalog. Personally, I haven't seen too many Pink Runtz (a phenotype of the original runtz) crosses around my way so I was curious to see how this would add up. Let's waste no more time and get into the facts!
The Candy Beach was received in a square, traditional Mylar bag. I could feel myself getting fat just looking at the bag appeal. This holographic display of the Bay Bridge overlooking "The Bay" which was comprised of a 20-scoop Sundae. One thing I found exceptionally creative about the artwork was how the support beams on the Bay Bridge were made out of Candy Canes (yes I was high when I noticed this). Even though I am one of those who prefers jar/glass packaging, I could certainly get down with the bag appeal on this one.
Even though I was disappointed by the overall high, the Candy Beach is flavor saver that will more than likely appeal to Runtz/gelato smokers. If the taste of lemon candy does not appeal to you, more than likely you won't enjoy this cultivar. However, anyone who craves a rich and flavorful terp profile in general will definitely want to check out this one. As mentioned, the high didn't just hit me but I have heard from others that the effects on this have been above average so maybe it was just me or the batch received. Nonetheless, I do have a couple more reviews coming up with Deep in the Bag and Bays Finest over the next week or so. Make sure to stay tuned!
When I opened up the bag on the Candy Beach, I was immediately hit with a sweet, tangy smell of candy citrus. More specifically, I was dialed into those notes of lemon grass and cotton Candy permeating from each bud. When it came to the overall aesthetic of the buds I wasn't too impressed. Although the Candy Beach had an insanely pungent nose, the buds were a little too compressed (and somewhat mangled) which was, more than likely, due to transport. The buds were a little more dense I typically have found in various Runtz/LCGs crosses the past few years. Made up of a dark purple complexion, hidden pistils, and overwhelming triche coverage, each nug was as frosty as it was messy in appearance. When I broke the buds the apart, either by grinder or by hand, a thick layer of kief particles shook off the bud's structure. I was quite happy with the yield that the Candy Beach broke up as this above par given the lineage of this cultivar. Once broken down, that lemon, citrus-like scent could be smelled like never before. This still gave off that distinct Runtz candy smell but the lemon nose from the LCG parent was a force to be reckon with on this cultivar. The dry pull on this was more on the citrus and earthy side with smooth undertones of candy flavor.
When I sparked the Candy Beach in an Organic RAW, it overflowed with flavor; completely matching the nose of the bud. As mentioned, I really zoned in on a mix of cotton candy and lemon grass terps that were present from the initial inhales. One of my guys, Robb Reefa, recently reviewed this strain and compared it to a Lemon Icee. I can attest to that taste as well a fair mix of floral and diesel to go along. On the way out, I was consumed with a tropical finish that retained those lemon citrus notes to go along with tangy and musty terps. A faint nutty taste was exhibited around the halfway mark of the sesh, however, the mix of Z and citrus dominated this one from start to finish. The pulls were gassy and pressuresome leading to a bit of coughing throughout the sesh. In addition to that, this cultivar led to a very even and consistent burn resulting in a heavy white ash with a fair terp drip. Overall, I think the main feature that existed in Candy Beach's profile were its rich, yet bold, terps that powered the entire sesh. Between the flavor of both the LCG and Pink Runtz parents, respectively, the overall taste and potency of the smoke were on par with my expectations.
If there was an Achilles Heel to this cultivar it would lay within the medicinal effects. Although the smoke was tasty while it lasted, I did find that "wow" factor regarding the effects that the Candy Beach put out. Towards the end the sesh, I felt a moderately cerebral buzz met with a smooth rubbing sensation in my upper body and shoulders. This only lasted a good 25-30 minutes before feeling a bit sluggish within my thought process. From there, I couldn't get a good sense whether the effects were coming or going. About 15 minutes later, I had my full perception in tact and didn't really feel the medicinal effects anymore at this point. I did get the munchies while under the influence of this cultivar and as I was found poking in the fridge on occasion. All in all, I was less than impressed with the potency in high as well as total duration of the high, especially given the flavorful and powerful nature of the smoke.