Strain Review: Mango Sapphire from Liberty Health Sciences
Mango Sapphire 18.9% @libertyhealthsciences
Lineage/Genetics: Bubba's Gift x OG Kush x Afghan
Indica or Sativa: Indica dominant Hybrid
Original Breeder: Humboldt Seed Organization
Grower: Liberty Health Sciences
Dispensary: Liberty Health Sciences
Mango Sapphire Strain Review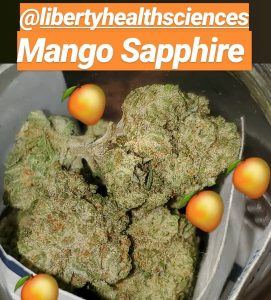 Mango Tango, I've had my eye on Liberty's Mango Haze for what feels like months but before I could get the chance to try it here comes another Mango strain, and word in the medical community is that this one is even better. Where did this Mango Sapphire come from? Is it really better than the Mango Haze?
While we are not able to settle that debate tonight, we will tell you this Mango Sapphire is good stuff 🥭💪🥭🔥 First of all, I really enjoy the smell on this one. It does smell like mangoes along with a sweet citrus and light coconut. The OG and Afghan side definitely provides the gas as this mango was diesel for sure. These were sweet dense nugs and
I was surprised by the quality when I broke up one by hand to roll a J. I enjoyed the effects of this strain just as much as the sniff. Taste was earthy mango gas.Mango Sapphire is listed as 85/15 Indica and there is definitely some relaxation in the limbs but in our opinion it is more of a tranquil soothing effect. It starts off with a nice euphoria no problems here, almost Sativa like in the first stages but It sets in smooth on the body and is solid not too heavy.
I compare it to a decent massage. I think this strain would be great for Yoga sessions. Anyhow I think I really like this one and it is my favorite strain of flower from Liberty so far for sure. We may need to check out more of their strains. Have heard good things about the Bio Diesel.
At the Strain Games Medal Ceremony Mango Sapphire went home with the Silver Medal 🥈.
It was a fierce effort and waves were definitely made for Liberty Health Sciences Flower. They continue to provide a cheaper option although prices are about to go down across the board we think. They have improved on quality and curing and you can see and taste the difference. It is nice to have different strains and liberty seems to have their own strains other than blue dream.
#flamedicalmarijuana #mangosapphire
#strainoftheday
#strain_games
#flmmj
#libertyhealthsciences #libertyhealthscience #libertyhealthsciencesfl #libertyhealthshare
#cannabisreviews #cannabiscommunity #terpcity #terpenesmatter #floridamarijuanapatient
Advertisements