Strain Review: Gingerbread Man by Harvest House of Cannabis
Gingerbread Man Review $35 New Roll One @harvesthoc
Lineage/Genetics: Animal Cookies x Mai Tai #4
Indica or Sativa: Indica dominant hybrid
Original Breeder: Clearwater Genetics
Grower: Harvest House of Cannabis
Gingerbread Man Strain Review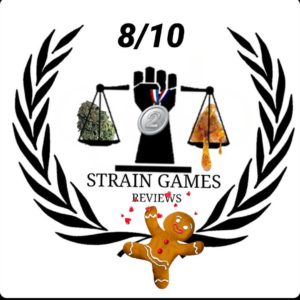 This beauty came in at 15.75%. Gingerbread Man is a cross of Animal Cookies x Mai Tai #4. A good friend of mine who is a true smoker raved about this batch and how it was just as good as their 50 dollar indoor modern flower. After he went to get more twice in one week, I knew I just had to go check it out. Upon my first look and smell I was very impressed. This was certainly not the same Harvest from a year ago. WHOA, but first things first does it taste like gingerbread man? 😂
No not exactly…. but it does make our list of 2020's Tastiest Strains. With such a unique terpene profile this strain is sophisticated and has a level of beauty and depth not normally seen in our program here in Florida. From the first hit I immediately noticed the spice… Ginger maybe? Next the Sourdough pretzel, Cookie, bread came in.
The sweet is there but much easier to spot in a vaporizer and tasted absolutely delicious in the PAX. The effects are just as awesome and this strain is a must try for everyone. It is great for mood enhancement. While it is Sativa leaning it will still provide a classic stoned feeling. The Gingerbread effects are almost like a journey. You can feel an uptick that eventually mellows out. Very cerebral, uplifting, and stabilizing. Not mind racing but stimulating with a slight body limb feeling. Perfect for parties and social situations.
Makes you relaxed just enough to chill and settle which will boost confidence. It may make you bold enough to make a move on that cute girl/guy at the party. However there were a couple nights after work she put me out but I was tired from long days. I was thinking hard to myself do I really like it or do I love it? Expect
At the Strain Games Medal Presentation. The Gingerbread Man walked away proudly with the silver medallion🥈. The Gold Medal potential is certainly there with this star. It turns to dust somewhat in the grinder. Please get rid of the envelopes Harvest. The genetics and effects are special on this one and helped secure a 8/10. This strain has a lot of potential and will be a favorite of many patients.
#straingames #straintesters