Strain Review: Ice Cream Cake by SoFlo Gro
Ice Cream Cake Review 28%
Cultivated by @soflogro
Lineage/Genetics: Gelato 33 x Wedding Cake
Indica or Sativa: Indica dominant Hybrid
Original Breeder: Seed Junky Genetics
Grower: SoFlo Gro
SoFlo Gro Ice Cream Cake Strain Review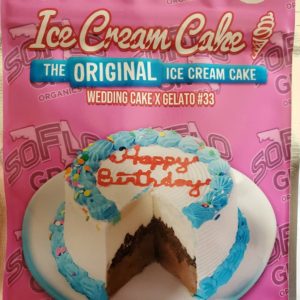 This Ice Cream Cake is super dense and more icey than Gucci Mane. I noticed the trichomes were ridiculous as I picked up one smaller nug and it looked like it was rolled around in sugar. This flower passes all the sticky tests. After breaking up by hand my fingers were sticking together without much pressure. It just screams love and quality. There is not much green on these nugs at all mostly purple and white. The pistils look amazing and the photos do not do this strain nor the grower justice. The smell is quite delightful and not stinky or offensive in the least if you know what I mean. It is very fragrant, sort of nutty, sage, hash like cheesy cake, romano is what i got from smell tests. Hard to put a finger on but a very enjoyable smell. Smokes like a dream very smooth and super tasty. Effects may start off a little happy heady but soon make way to a very chill, nice, relaxed but not too heavy slightly indica dominant Vibe. Strain Games Approved!
Overall Score 9.5/10 on this sweet and tasty⛽
These two strains blend perfectly to delight your taste buds. I would compare to an expertly brewed coffee with the range of flavors here. Unseasoned smokers may not fully appreciate this strain. Easily one of 2020's tastiest strains. So Flo is on 🔥🔥🔥🔥 At the Strain Games Medal Presentation Soflogro's Ice Cream Cake not only took home the cake but also the Gold Medal 🥇. This strain is guaranteed to promote/prompt an overall chillness and mellowness of the mind and may also make you want to move your body a little. Perfect for yoga, deep stretching, physical therapy, or any low intensity exercise. I would describe it as a very mature strain almost like the girl/guy you meet in college that actually inspires you to get more serious about academics. A subtle seduction enters and inspires relaxation of the mind and body. Be sure to check out So Flo for Florida's Finest.
#greasegang #terpcity #straingames #onlyfuckwiththereal #soflogro_ #strainoftheday #icecreamcakestrain #floridasfinest #terpenedream #terpsfordays #organic #strain_games #straintesters #cannabisreviews #medicalmarijuanareviews