Strain Review: Jilly Bean from GrowHealthy
JillyBean Littles Review 17% @fl_growhealthy
Lineage/Genetics: Space Queen x Orange Velvet (Orange Skunk)
Original Breeder: MzJill from Subcool's The Dank (formerly TGA Subcool Seeds)
Grower: GrowHealthy
Dispensary: GrowHealthy
Jilly Bean Strain Review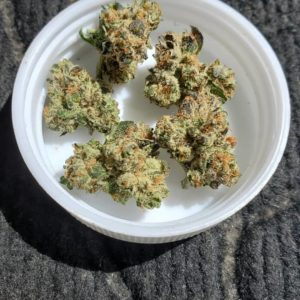 This strain provides a general positive and an almost excited outlook. During my first experience there was a happy gradual uptick and lots of cerebral stimulation. I managed to come to a place of acceptance with some issues i had been dealing with. Body effects while light are actually pretty noticeable. Need something to change the tune this might be it because you will have a different outlook after medicating with strain as anxiety and depression disappear with this tasty creation. Stress becomes a thing of the past and I could see smiles and giggles in the right situation. If you have a tendency to get bubbly be careful you little JillyBean you.
At times it can feel sort of lazy on this "Sativa" but more like energized and relaxed at the same time. Good Sativa for pain. Delicious and strong citrus mango taste. I almost want to call this strain a hyrbid…almost Growhealthy has it listed as a Sativa and it leans about 60/40. Orange Velvet X Space Queen are the correct parents for this strain. There are so many killer women in this industry and the genius behind this creation @mzjillgrower is helping to lead the way. This awesome lady created JillyBean 15 years ago. Be sure to check her out for some of the most sought after strains and the best medicine in the industry. 3 words to describe this strain pungent, tropical, Starburst. Profound thoughts and good ideas come on easier with this creative beast of a strain. Final Score 8/10
At the Strain Games Medal Presentation JillyBean was awarded the Gold Medal 🥇. What an impressive first time performance. The stellar genetics played as she stole the spectators hearts. Growhealthy has this strain listed as a Sativa but she can feel heavy hybrid.
This strain continues with the latest motto
#forgetthepercentage
#straintesters #Strain_games #strainhunters #jillybean #legalizeit #cannabisreviews