Strain Review: Jillybean by Flowersmith
I always love trying out new shops and new growers and new strains like Jillybean. I had been noticing signs on my walk home from therapy for @mongoosecannabis on Belmont for a while. Super glad I stopped in. They're super nice, with a lot of knowledge of their products and a good selection of things you don't see at every shop in town. Gotta love that mom and pop, natural medicine clinic vibe.
Lineage/Genetics: Space Queen x Orange Velvet (Orange Skunk)
Original Breeder: Subcool's The Dank (formerly TGA Subcool Seeds)
Grower: Flowersmith
Dispensary: Mongoose Cannabis
Jillybean Strain Review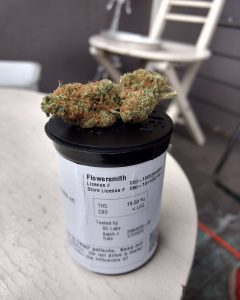 This Jillybean is a wonderful, citrusy way to start the day. @flowersmithllc really knocked it out of the park with this batch. Giggly, euphoric high with virtually no stoniness or couch lock. Big citrus flavor with a nice sweetness. Definitely a recommendation to both stop in, and grab this if they still have it.
THC: 18.59%
CBD: LOQ
.
Also, follow my boy @skunkwoodz. He's the homie and makes some seriously cool rolling trays. Hit him up if you need a fucking dope rolling tray.
.
.
.
#weedreviews #strainreview #strainreviews #pdxcannabis #pdxcannabiscommunity #pdxweed #oregonweed #oregoncannabiscommunity #portlandweedreviews #OMMP #portlandcannabis #pnwstoners
#Medicate #medicalmarijuana #wedontsmokethesame #wakeandbake #weshouldsmoke #highsociety
Advertisements