Strain Review: I-95 by Nelson and Company
I'm gonna be honest, I was gonna give this stuff kind of a bad review by my standards. I've had the I-95 from @nelsonandcompany before and liked it, so I grabbed this batch from @mongoosecannabis without thinking or checking much. I really like the shop, and the farm is one of the most historically solid and consistent in the state.
Lineage/Genetics: Triangle Kush x (Legend OG x Stardawg Ix2)
Original Breeder: Top Dawg Genetics (Money Mike)
Grower: Nelson and Company
Dispensary: Mongoose Cannabis
Nelson and Company I-95 Strain Review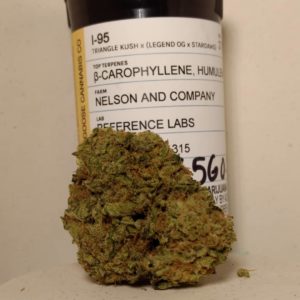 It wasn't until I smoked some and found it harsh that I checked the dram. Late July harvest and an August testing date, bought in late November or early December. It's hard to store weed properly for that long, unfortunately, especially in large amounts like a dispensary would carry. Explains why the terps, while present, felt a little flat, and the smoke felt harsh and flavorless.
It had a general OG vibe to it, something I expect from a Triangle Kush cross. There were a whole lot of really exciting or forward notes. Little citrus, little gas and earth. Stoney high that sits in the body and head. Not much unique to write home about.
I think there's too much negativity right now. I don't want to give this a bad review. It was an adequate smoke that I wouldn't complain about if I hadn't paid the same price I pay for Eugreen and Focus North. Would I rant and rave about it? Probably not, but I also have been very happy to top it off with some @happyhippycreations.llc hash to boost those spicy, citrus notes and of course the overall potency. The little hash topper turns it into a decently enjoyable smoke.
I feel kinda bad giving this a bad review by my usual standards. The farm sent me a T-shirt and dab mat for nothing, but I gotta maintain integrity here. Like I've said, I have nothing but good things to say about the farm and quite a bit good to say about the shop. This is a reminder to be a conscious consumer, ask for testing dates, and maybe leave it for normies if you're gonna complain about "well matured" cannabis. Just ask for the latest drops if you're a snob like me.
Also, I feel terrible that I forgot the name of the budtender I worked with, but she was great. Super helpful, super nice. I may have given one of their products a bad review, but support @mongoosecannabis if you can. We've got plenty of corporate cannabis here, support mom and pops like this. Nectar will be fine without you, and fuck 'em if they aren't.
#thehighestcritic #strainreview #strainreviews #weedreviews #420review #portlandcannabis #OMMP #portlandweedreviews #MMJ #oregoncannabiscommunity #portlandcannabiscommunity #oregonweedreviews #Medicate #oregoncannabis #PNWStoners #PDXcannabiscommunity #pdxcannabis #pdxstoners #cannabiscommunity #cannabisreviews
Advertisements