Strain Review: Point Break by Eugreen Farms
I'm always looking for new farms and dispensaries, so getting some of this Point Break strain by @eugreen_notill from @mongoosecannabis checked a couple boxes for me. Mongoose is a shop on Belmont that I've quite enjoyed visiting. Mom and pop owners and a natural medicine clinic vibe, this is what they told me dispensaries would be like.
Lineage/Genetics: Tropicanna Cookies x Trophy Wife (Wedding Cake F2)
Original Breeder: Surfr Seeds
Grower: Eugreen Farms
Dispensary: Mongoose Cannabis
Point Break Strain Review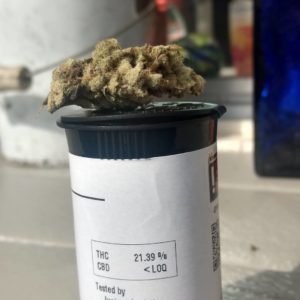 The flower is amazing. Lots of citrus from the Tropicanna Cookies parent with a nice earthiness from its other parent, Trophy Wife (Wedding Cake F2).
The Trop provides a nice functionality to compliment the relaxation from the TK, making this one of my favourite pickups for a little while.
Whenever you see this, grab it, but especially if you're at Mongoose. I want them to succeed. Also, their @elephantextracts Rosin is really competitively priced, so check that out.
THC: 21.39%
CBD: < LOQ
.
.
.
#pdxcannabiscommunity #weedreviews #strainreview #strainreviews #cannabisreviews #pdxweed #pdxcannabis #trianglekush #Medicate #tropicannacookies #OMMP #portlandweedreviews #smokelocal #pnwstoners #higherthanmost #highsociety #medicalmarijuana #420lifestyle #portlandcannabis #420review #portlandtrees #weshouldsmoke #420life #wedontsmokethesame #portlandcannabiscommunity #weedporndaily #weedporn
Advertisements