Concentrate Review: Chunky Diesel Live Budder by Cresco Labs
Ooh, Chunky! *Bruno Mars voice* Chunky Diesel is one of my new favorite strains.
Lineage/Genetics: Deep Chunk x Sour Diesel
Original Breeder: Ganja Rebel Seed Co.
Grower: Cresco Cannabis
Processor: Cresco Labs
Dispensary: The Herbal Care Center
Chunky Diesel Live Budder Review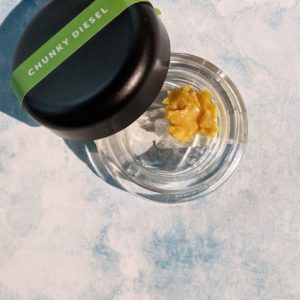 I'm a Sativa kinda girl, but lately, it's been making me a bit more anxious than I like so I started exploring hybrids. Chunky won me over because it has the uplifting effects of a Sativa so I can be productive without sending my mind racing, while also relaxing my body.
It helps that it's a cross of one of my favorite strains, Sour Diesel, and an old school Indica. I was super excited to see this Live Budder from @cresco during my last visit to @theherbalcarecenter. ⁠⠀
.⁠⠀
.⁠⠀
.⁠⠀
.⁠⠀
.⁠
#710 #cannabiscommunity #420 #mmj #hightimes #maryjane #highlife #dabs #cannabisculture #stoner #topshelflife #shatter #sativa #indica #wax #dabbersdaily #womenofcannabis #chicagocannabis #chicagocannabiscommunity #illinoiscannabis #illinoiscannabiscommunity