Strain Review: Tropicanna Cookies (GSC x Tangie) by Evan Creek Farms
Been a weird week. Glad to be getting high. Check out this Tropicanna Cookies by @evans_creek_farms.
Lineage/Genetics: GSC x Tangie
Original Breeder: Oni Seed Co.
Grower: Evans Creek Farms
Dispensary: TreeHouse Collective
Tropicanna Cookies Strain Review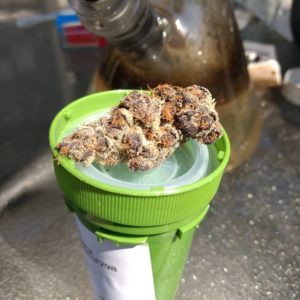 In no way does this look like it should smell like a sweeter Orangina, but that's exactly what this stuff smells like. At 18% THC, it's also not insanely challenging to smoke a lot of, so you can enjoy it for a long time and really enjoy yourself. You already know about the MAC from @merakigardens. I've never gotten huge nugs, but the high and taste are fucking on point. Great way to start the day.
This is the most energetic Tropicanna Cookies I've had. I've heard people describe the strain as energetic, but this is the first time I've gotten notable energy from it. Yet another amazing sample from @evans_creek_farms and @thc.pdx.
I've been loving my orange terps lately, and this fit that bill to a T. Less sugary sweet than the stuff I've gotten from @focusnorthgardens, those qualities are replaced by a sort of funkiness that's hard to put a label on. This isn't Kool-Aid orange, it's much closer to a slightly sweetened zest.
I think it might be impossible to grow ugly Trop. Loaded with purple, gold, and orange, these buds are GORGEOUS. They kick off a dusting off kief when broken and leave you satisfied to stare at absent mindedly. Photographing it was a joy. It took to lighting like a fish to water.
As I said, this stuff has some energy to it. It doesn't get me into the kitchen like other phenos I've had, but it gets me into a clear-minded state where I can get stuff done. Some other versions, I've been able to add into my night time routine, but this is undoubtedly a morning staple for me.
I've been reviewing these guys kind of a lot lately. This isn't by design, they just keep putting out really pretty weed at the places I shop. You can't blame me for that. I'm only human. Obviously I think you should be peeping their stuff where I do (@oregrownindustries and @thc.pdx) but just buy it when you see it. It's fire.
.
.
.
#portlandweed #justblazeig #highsociety #weshouldsmoke #oregonweed #weedstagram420 #weedporndaily #cannabiscommunity #loudpacks #highgrade #hybrid #cookiesorbetter #OMMP #Medicate #medicalmarijuana #designerweed #fueledbythc #topshelf #topshelfonly #cannaseur #wedontsmokethesame #higherthanmost
Advertisements