Strain Review: Crystal Cookies by High Noon
In the latest episode of "Thomas Smokes a lot Of @high_noon_cult Bud", this Crystal Cookies from @tetra.pdx.
Lineage/Genetics: Platinum GSC x Animal Cookies
Original Breeder: In House Genetics
Grower: High Noon Cultivation
Dispensary: Tetra Cannabis
Indica/Sativa: 90/10
Crystal Cookies Strain Review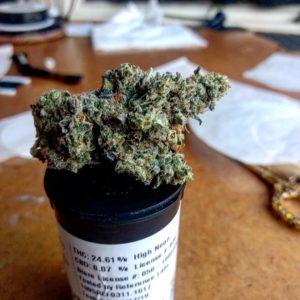 Gassiest Cookie strain I've had for a little while. Seems like diesel is a real common terp direction for growers to aim these days. I ain't complaining at all.
Euphoric get-up-and-go effect with a pleasant relaxation on the back end. Feels good for starting the day when you need to get shit done while remaining creative and focused in the process. It's also something I'm digging for like an 8 P.M. smoke when I'm cooking late to avoid heating up my house even more.
THC: 24.61%
CBD: 0.07%
.
.
.
#portlandweed #weedporndaily #cannabiscommunity #cookiesorbetter #gas #oregonweed #hybrid #highgrade #medicalmarijuana #OMMP #Medicate #wedontsmokethesame #topshelf #weedstagram420 #smokelocal #topshelfonly #iloveweed #highsociety #weshouldsmoke #justblazeig #cannabislifestyle
Advertisements