Strain Review: Gas Mask OG by Ripped City Gardens
Really interesting strain. This is Gas Mask OG (aka Gas Mask) from @therippedcity, bought at @tetra.pdx.
Lineage/Genetics: Cherry Pie x Alien Kush F2 (backcrossed)
Original Breeder: Pacific NW Roots
Grower: Ripped City Gardens
Dispensary: Tetra Cannabis
Gas Mask OG (Gas Mask) Strain Review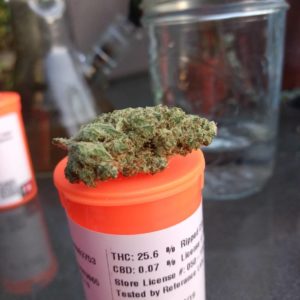 I don't know if it's actually an OG, because the bottle says it, but the sign at the shop didn't, and it doesn't hit like what I normally think of as an OG cross or pheno.
The flavor and smell are pretty unique. Relatively pungent, and the "Gas" in the name is well earned. There's a definite OG hint in the overall profile, but it leans heavy on gas, with spice and sour on the back end. One of those strains that just screams "Loud". I'd love to get the terp profile, because I'm guessing there's a notable amount of humulene and/or terpinolene in there.
The effects aren't heavy to me like a traditional OG, but also not racey at all. I used it as a mid-day smoke for a road trip where I'd be doing some social interaction at rest stops where I'd also need to boost my appetite, but didn't need to be at peak mental function. Watch out on how big your hits are, because this stuff creeps up on you, and can make you cough pretty hard from its lung expansion.
I took my sweet time getting to this review, so @tetra.pdx may not have it any more, but if they do, it's a great pickup for hybrid lovers. Top shelf and totally worth it.
THC: 25.6%
CBD: 0.07%
.
.
.
#gasmaskog #ogkush #portlandweed #oregonweed #pdxcannabiscommunity #cannabiscommunity #dailysmoker #hybrid #higherthanmost #highsociety #Medicate #medicalmarijuana #OMMP #weshouldsmoke #pnwstoners #grownherenotflownhere #wedontsmokethesame
Advertisements