Strain Review: Horchata by Meraki Gardens
Sometimes that end of the month, broke as fuck, trying to squeeze the most value out of the least possible money pickup really hits the spot. I got this Horchata strain by @merakigardens from @tetra.pdx for fairly cheap, and it's exactly what I needed.
Lineage/Genetics: Mochi Gelato x Jet Fuel Gelato
Original Breeder: Compound Genetics
Grower: Meraki Gardens
Dispensary: Tetra Cannabis
Horchata Strain Review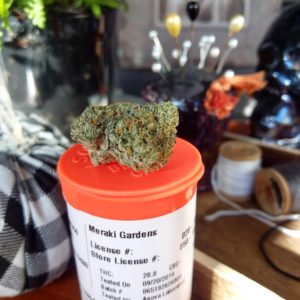 The high is pretty par for the course with dessert strains: relaxing, creative, and euphoric without being a stoney knockout. Pretty, insanely dense nugs with some lovely coloration. My allergies are acting up, so smell and taste are basically fucked for me as I'm writing this, but I remember a spicey, kinda doughy sweetness in the jar. Kind of like if you mixed bourbon, cannabis, and horchata.
Snag this for your mid to end of the day smoking needs. You're fucking with @merakigardens, you're fucking with one of the best in the state.
THC: 28.8%
.
.
.
#portlandweed #oregoncannabis #oregoncannabiscommunity #Medicate #portlandcannabiscommunity #gelato #OMMP #medicalmarijuana #highgrade #weshouldsmoke #highsociety #hybrid #wedontsmokethesame #higherthanmost #justblazeig #weedstagram420 #pnwstoners #weedporndaily #cannabiscommunity #flavorgameinsane
Advertisements