Strain Review: Black Cherry Punch by High Noon
It's my birthday, and I'm reviewing one of my favourites, Black Cherry Punch.
Lineage/Genetics: Purple Punch x Black Cherry Pie
Original Breeder: In House Genetics
Grower: High Noon Cultivation
Dispensary: Tetra Cannabis
Black Cherry Punch Review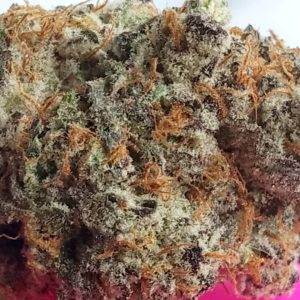 Portland has a lot of dispensaries, and they're all good at different things. @tetra.pdx is one of my favourite shops in town because it fills a niche that suits me very well. Their stuff is always high quality, but lower cost. For that, you generally don't get those magazine cover exotics and shit, but the weed tastes amazing, the highs are never unpleasant, and you don't stress about smoking it too fast. Pair that with budtenders that know me well, and they've made me a loyal customer.
This Black Cherry Punch by @high_noon_cult is an exception to that rule. This weed is exceptional in every way. The flavor is deep and sweet. Berries and juice, not sugar and dough. The high is potent and hungry with a lot of giggles.
I can't possibly recommend it enough. No matter what I go in looking for, if this is on the shelf, I'm buying it.
.
.
.
A while back I posted a story asking people to recommend some good Purple Punch. I know, I'm hilarious. Today's review is actually gonna be related to that. I haven't written about the Black Cherry Punch from @high_noon_cult in a while because I didn't think I had anything new to say about it. I grabbed an eighth from @tetra.pdx recently, and finally found the words. It's what I WANT Purple Punch to be.
This stuff has all the artificial berry syrup, mothball, and grape notes one expects from well grown Purple Punch, but also with a unique twist that reminds you this is its own strain. Cocktail cherry notes come through as well. Both the bright red, Shirley Temple maraschino cherries and the fancy Luxardo cherries that cost like $15 for a jar. Those deep cherry notes are what sets it fully apart from stand Purple Punch for me.
The biggest gripe with Purple Punch everyone seems to have is that, ironically, it lacks punch. Black Cherry Punch does not have this problem. It's not the heaviest hitter that High Noon offers, I'd put their Triple Chocolate Chip and Dosi Mints ahead of it in that department, but it's no slouch. It's been my insomnia medication for a little bit now.
The high hits nice and hard on the first exhale, but keeps kicking in as time progresses afterward. It'll be best served at the end of your day, but do you. I'm not your boss. I've particularly liked it for old kung fu movies. The euphoria will keep you laughing, the relaxation will keep you happily in the couch. That's just me, though.
I've reviewed a good deal of High Noon stuff recently. That ain't gonna stop any time soon. I really like everything about their flower, plus the people who grow it are pretty nice, so it's kinda hard to stay away. They care a lot about the flower they grow, their cure process leads to flower that is a joy to break up and smoke. I really can't recommend any of their products enough. If you want to grab some, @tetra.pdx usually has one or two strains, @oregrownindustries carries a number of them, and I believe @jayne_pdx carries some of their products. They're all over.
#highnooncult #pdxcannabiscommunity #pdxweed #pdx420 #420review #OMMP #420lifestyle #strainreview #strainreviews
#wedontsmokethesame #higherthanmost #weshouldsmoke #portlandweedreviews #portlandcannabis #portlandweed #oregonweed #oregoncannabis #oregoncannabiscommunity #weedreviews #topshelf #cannabiscommunity
Advertisements