Strain Review: Elephant Ears by Eastwood Gardens
End of the month is always rough. Shit happens. Fuck all that sad shit, though, because it's fucking Halloween, and I'm reviewing Elephant Ears by @eastwood_gardens_pdx. It's felt like a decade since they've been gone, but it felt like normal to get some @eastwood_gardens_pdx bud from @thc.pdx again.
Lineage/Genetics: Dogwalker OG x Grease Monkey
Original Breeder: Eastwood Gardens
Grower: Eastwood Gardens
Dispensary: Treehouse Collective
Elephant Ears Strain Review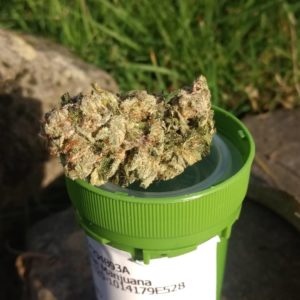 It's a cross between Grease Monkey and Dogwalker, and it has the trichomes to match. Big and oily with a lot of chemical/gas smell from a distance, and more earth once you get really close. Can't wait to see what concentrates from this will be like.
The THC isn't astronomical at 23%, but it's still a heavy hitter. It's somehow insanely stoney, but also functional. Really goofy and euphoric, and decent munchies.
Definitely a must-buy when Treehouse has it, especially since I'm pretty sure they're exclusive at this point. Watch out for this farm and this strain, because they're gonna blow up big time.
In honor of their new Funnel Cake drop (flower and rosin, hit up @thc.pdx) and clearing out my backlog of content, I present the one, the only, Elephant Ears from @eastwood_gardens_pdx.
Greasy, funky, and gassy, this stoney hybrid is definitely one to enforce some humility on the overconfident. Easily the least functional high I've had in a long while, this stuff is gonna go into your mind at night and wreck up the place. It's one of those strains that has you giggling on the couch to street food videos before empowering you to try making some of it for yourself. It doesn't work out well. I burned myself.
The smell on this stuff is unique. Grease and gas dominate the flavor and make it almost taste…dirty? Like if you turned industrial smog into a flower, and that wasn't unpleasant, if that makes sense at all. It's Dogwalker crossed with Grease Monkey, and it smells exactly like what you would expect, while also being incredibly smooth and easy to smoke on.
It's no secret these guys have been one of my favorites for years and will continue to be for the foreseeable future. I only buy their stuff from @thc.pdx, but they're quickly becoming one of the most popular small-batch farms in Portland. @mscanniebis is a doll and was one of my favorites when she worked at @thc.pdx, and you can really tell the extra love that's put into these plants. @terp_herder has knocked completely out of the park with their rosin, I can't wait to try it and shout my love from the mountaintops even more than I am now. Just go out and buy their stuff, maybe DM me so we can talk about it.
.
.
.
#portlandweed #pdxcannabiscommunity #portlandcannabiscommunity #OMMP #oregoncannabis #oregonweed #oregoncannabiscommunity #highsociety #cannabiscommunity #higherthanmost #wedontsmokethesame #justblazeig #weshouldsmoke #topshelf #strainreview
Advertisements