Strain Review: Slapz by Deep in the Bag
Slapz – @deepinthebag.official
Nose: Gassy, diesel, earthy, piney, spicy, candy (light)
Inhale: Diesel, piney, citrus, candy, floral, buttery
Exhale: Woody, piney, diesel, doughy, candy
Lineage/Genetics 🧬: Grease Monkey x Runtz
Bred by: Exotic Genetix @exoticgenetix_mike
Cultivated by: Waiting on Confirmation
Terpene Profile: Unknown
Slapz Cannabis Cultivar (Strain) Review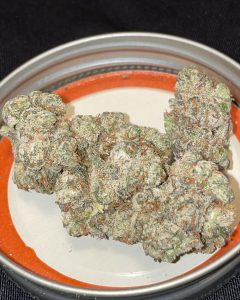 Hey what's up everyone? I hope you all are having a great week and ready for another review. Today, I will be going over the remaining product I have, at the moment, for review from Deep in the Bag. I've become acquainted with some of their work over the past month or so from their collabs with Bays Finest to the last review I did on the Deep's Burgers. When a friend of mine hit me with some of their "Slapz," which features a cross between Grease Monkey and Runtz, I instantly got flashbacks at the Mylar OG I reviewed a couple months back from Boutique. Reason being is that this cultivar also features a unique cross showcasing a heavy gas and candy. A lot of these gassy cultivars that are being crosses with various candy ones (Runtz, gelato, zkittles, etc.) are, quite frankly, doing a great job of grabbing my attention. I mean, who doesn't love the best of both worlds? Let's waste no more time and get into the facts!
When I received the Slapz, it came in a standard, square Mylar bag. Although I really found the colorway selected was a nice way to illuminate the bag, the artwork was more on the simple side. It featured an old-school car (my best guess not a car guru) that had its trunk open. Inside the trunk, there existed a fully loaded surround-sound system with subwoofers. I was hoping this would be a little indication on how my experience would turn out with the Slapz. As mentioned, there wasn't a whole lot to report about the bag art itself.
When I opened up the Slapz, similar to the subwoofer planted in the back of the car, it was extremely loud with a strong, gassy odor. Within moments, I picked up on earth scents with an overwhelming diesel nose. I also caught spicy citrus terps to go along with a faint smell of candy. The one monstrously lavish bud that made up the eighth (smaller bud in picture broke off) with a massive cola and bright green hues that were noticeable from a distance. It was topped off with a generous amount of triches, as well as pistils, which gave this cultivar a picturesque look. On top of that, the one big nug was considerably dense and sort of difficult to break apart. Already judging by the nose, texture and appearance that the Grease Monkey in the lineage came out superior to its Runtz counterpart. When held in hand, the one giant nug left a mildy sticky residue behind on my palm and finger. Although I have always preferred breaking down by hand, a grinder was necessary for this cultivar. Once broken down, the Slapz produced a decent yield while permeating the room with an atrociously gassy smell of citrus. Upon taking a dry pull of the joint, I was taken by surprise from the fruity notes it put out while receiving those heavy-hitting diesel notes.
When I sparked the Slapz in an Organic RAW, the initial inhales drew in a powerful blend of diesel, pine and citrus. On the way out, those distinct diesel notes were retained through the exhale but with sharp woody pine terps lingering in the background. The pulls were obnoxiously gassy creating small sweat beads on my forehead as well as making my mouth salivate. A little ways into the sesh the joint exhibited a very mild candy taste reminiscent of the Runtz parent in the cultivar. Additionally, I stated to pull noticeable cakey/doughy layer of terps released throughout the exhale. Personally, I thought the flavor was on point but the overwhelming power each pull produced is what stood out the most. In a way I found a lot of similar qualities within this cultivar as I did with the Gorilla Butter I reviewed from Blockhead Buds a couple months back. The Slapz resulted in slow and even burn creating a thick white ash and simmering terp ring. Those citrus diesel terps gave a gassy continued strong giving a gassy finish to the sesh. Overall, there wasn't as much candy I was expecting there to be but I was hard denying the punch that this cultivar packed throughout.
The piercing amount of gas exhibited through each pull assisted with how quick the medical effects kicked in from the Slapz. Not even halfway through, my eyes started to water as a cerebral buzz formed including a smoldering state of relaxation that rose from my legs up. Right around the time I was putting the joint out, I felt extremely medicated with my perception starting to fade in and out. I also gained a strong sense of the munchies, and at times, actually found the energy to whip up something in the kitchen. For the most part, my experience regarding the medicinal effects of the cultivar were full of cloudiness and content within being in my own space. As powerful as the high was, it lasted only for around an hour and half although I did feel a little drained by the powerful effects. Given heavily sedating qualities I typically reserved this cultivar for nighttime use or periods of the day where I didn't have anything pressing to do. Personally, the effects the Slapz put out met my expectation and made the smoke even that more honorable.
After having a chance to try the Slapz by Deep in the Bag, I definitely felt as if it was one of the strongest offerings I've tried (probably neck and neck with the Baycio). Personally, if you think this is going to be another candy coated offering you will be sadly mistaken. This one will definitely blow the hats off of less developed smokers so it is probably best off being reserved for seasoned vets. Any one who enjoys gassy cultivars (most notably GGs, grease monkey, breath strains) will want to check this one out. I think the flavor and the medicinal effects that ensue can appeal to those smokers who want to experience the full package when seshing. I also think this will have a lot of benefits on the medical side as well. From those who struggle with serious conditions such as muscle distrophy or Chron's to those who suffer more mild symptoms such as appetite loss and certain mood-related illness will more than likely find success with the effects of this cultivar. This was another job well done by Deep in the Bag and I look forward to seeing more from them in the near future.