Strain Review: Grandpa's Stash by Stoner Girl Grows
Grandpas Stash – @stonergirlgrows
Nose: Sweet, piney, earthy, citrus, cakey
Inhale: Piney, woody, sweet, citrus (lemon)
Exhale: Musty, citrus, sweet, tangy
Lineage/Genetics 🧬: Super Skunk x OG Kush x Afghan Kush
Bred by: Ethos Genetics @ethoscolin
Grown by: Stoner Girl Grows
Terpene Profile: Unknown
Grandpa's Stash Cannabis Cultivar (Strain) Review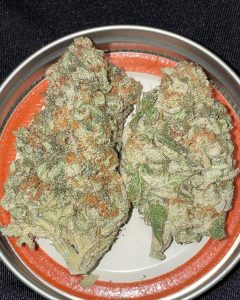 Hey what's up everyone? I hope each and all of you are enjoying your weekend and staving off the Sunday scaries. I've been having a lot of debuts recently (which is great!) and today won't be much different. I met the woman behind Stoner Girl Grows at the High Tolerance event a couple weeks back. I was personally impressed with her display of flowers as well as professionalism and engagement, especially after telling them I run this review page. If you aren't acquainted, this one-woman team is currently running off of a 12-light operation (I almost positive it was 12 or 8) in which she controls full ownership of all processes from seed to weed. Being raised by a single mom since I was young, I found a lot of credibility in the Stoner Girl's story and mission as we had the chance to talk for a little at the event. I grabbed the Grandpas Stash and Mandarin Sunset from her and am interested to give my honest analysis on both. Today, I will be starting with the Grandpas Stash as the first installment. Let's waste no more time and get into the facts!
I received the Grandpa's Stash in a extraordinarily long, rectangular Mylar bag. Personally, I favored the design but wasn't a big fan of how cumbersome the packaging itself was. The length of the bag made it a little awkward while handling as well as getting a glimpse of the bud considering how deep down inside it was. Nonetheless, the pink colorway, golden marijuana leaves and green lettering made the bag appeal simple but also eye-capturing. The design also, in my opinion, aligned extremely well with the Stoner Girl name and image.
When I opened up the bag that contained the Grandpas Stash, I was met with a more dull and earthy nose. As I picked up one of the two large nugs that made up this 4g eighth (thank you!), I started to hone in on a more sweet and piney scent that crawled into my nostrils. Each monstrous nug contained blinding lime green hues that were dripped out with a magnificent triche coverage. From experience, I've found that Grandpas Stash typically contains a mix of purple, however, on this cultivar the bright green color dominated the make up of each nug. Consisting mainly of a leafy/larfy structure, the texture of Grandpas Stash was soft for the most part. When in hand as well as breaking apart, the buds had a mild stickiness to them. As I was doing so I also noticed a faint gassy odor that started to penetrate through the surface. I personally preferred breaking these buds down by hand and, as a result, I received a very good yield which lined out the joint perfectly. The dry pull on the joint had a sweet taste of both pine and citrus.
When I sparked the Grandpas Stash in an Organic RAW, the initial inhales received were very piney but with a smooth earthy overtone. Once about a quarter of the way in, I started to experience increasingly gassier pulls that contained boldly sweet lemon citrus terps. On the way out, there was a considerably musty taste that was followed by that same sweet, gassy citrus blend experienced on the inhale. The deeper into the sesh I got, the taste developed into that of an OG-like cultivar with heavy notes of lemon and grapefruit. The pulls were a mix of smooth and chest rattling as some I couldn't resist the urge to cough after. I was amazed by the overall flavor I was able to draw in in throughout the duration of the sesh. The Grandpas Stash had a fairly consistent burn to it resulting in a mix of lighter-to-darker gray ash. The terp ring that this cultivar amassed looked as if the joint had sweat beads coming down the side of it. Towards the end of the sesh I was still acquainted with that familiar sweet pine taste that was present throughout the entire time. All in all, I did think that the quality of the smoke the Grandpas Breath offered was in line with what I was was looking for in this cultivar. Given its old-school lineage, I thought it provided a powerful smoke that actually took me more by surprise give the nose and lack of stickiness.
The medicinal effects that the Granpas Stash possessed didn't waste anytime kicking into action. About halfway through the joint (maybe a little longer) I started to experience a throbbing sensation starting to push towards the front of my head creating a slight raciness. For the first 30 minutes or so, the medicinal effects went straight to the head. Over time, however, I did start to feel a calming euphoria take over my upper body making me a little bit sleepy although I did not feel like lying down. While I still felt a cerebral high as I did earlier on I still remained perceptive and pretty on point within my thought process. My appetite definitely spiked while under the influence of this cultivar. The duration definitely left me a bit in shock as the medicinal effects lasted around the two hour mark. I was delighted by the long-lasting high the Grandpas Stash produced including various effects across different points throughout the overall experience.
After getting a chance to try the Grandpas Stash that was cultivated by Stoner Girl Grows, I was very pleased by the outcome. Similar to the Halitosis Haze I put up a couple weeks back, I think that this cultivar has that similar old school appeal to it. The only place I thought there could've been more room for improvement was on the nose. Despite that, this cultivar packed a gassy punch and long lasting medicinal effects that I believe would appeal to a vast majority of smokers. The flavor in this cultivar will have an exceptional appeal to those who favor a more citrusy diesel terp profiles. I tended to enjoy this more later in the day although I don't believe the high would have a perverse effect during daytime use. I think the medicinal effects will help those, such as myself, with anxiety, depression, and any type of appetite loss among other things. This was a strong debut to say the least by Stoner Girl Grows and I look forward to seeing how the Mandarin Sunset will have in store.