Strain Review: Lato Pop by High Tolerance x Joke's Up
Lato Pop – @hightoleranceusa x @latopop.jokesup
Nose: Fruity, candy, creamy, earthy, floral
Inhale: Floral, creamy, fruity, gassy, berry, spicy
Exhale: Earthy, musty, fruity, berry, nutty
Genetics 🧬: Waiting on Confirmation
Bred by: Waiting on Confirmation
Grow by: Waiting on Confirmation
Terpene Profile: Unknown
Lato Pop Cannabis Cultivar (Strain) Review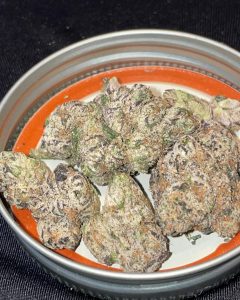 Hey what's up everyone? It's a new week and I have a very special debut for one of the first brands I can remember coming out of the Boston area. I remember first seeing High Tolerance branding around 2017-18 and, ever since moving to Boston in early 2019, I have seen the rise of their brand from the local traditional market to the legal cannabis market out west. These guys have also expanded into their own music label as well as clothing brand, collaborating with some notable names across all formats. I recently had a chance to attend one of their events in Rhode Island (which featured Dave East) and was impressed with the turnout. One thing that exceptionally stood out about High Tolerance was the size of their team which almost seemed, logistically, like a mini army. Although I have had mixed experiences as a consumer with High Tolerance in the past I figured I'd get the two main staples in their catalog, Lato Pop and White Lato Pop. Believe it or not, these are two cultivars I have not had the chance to try up until now as well as two I have been sleeping on for a long time. Lato Pop is offered at the dispensary level in Cali and I've seen it, from time to time, appear on the menu at various Cookies stores. It features a jointed collaboration with Jokes Up, a brand I have yet to try (mainly with my skepticism of fake bags being sold on the traditional market) but have heard mixed reviews about their products from the community. Nonetheless, I was excited to see the qualities the Lato Pop would behold. Let's waste no more time and get into the facts!
I received the Lato Pop in their newly updated circular shaped Mylar bag which was completely sealed up. Ive been seeing a lot of brands making this upgrade lately and, in all honesty, I'm not a fan. I believe a lot of these fancier shaped bags are lot more difficult to handle and open, making them less consumer-friendly. Additionally, the fancier these designs get, mostly with the precision shaping through manufacturing, the higher the price becomes to buy. I'm sure pushes price up downstream in the supply chain, especially on the consumer side when buying. This direct-to-print bag had a leathery texture to it and feature a spin on the famous lollipop line, Blowpop. While some may knock a lack of originality around this, I personally have always found it to be somewhat catchy and have enjoyed the spin-off. I also have always envisioned this would behold a bubblegum type strain given the play on branding. All in all, I thought the updated packaging was favorable.
While I am happy I finally had the chance to try the Lato Pop by High Tolerance and Jokes Up, I do believe this one fell below my overall expectation. This cultivar held above average aesthetics as well as featured a unique gelato/Runtz terp profile, making it appealing to any fruity/candy preferred smoker. However, apart from this, I believe some of the other qualities this possessed were up to snuff. First off, I was really let down by the fact that after all the work a brand goes through with fancy, appealing marketing that their offering to the consumer would hold a weight of 3.3g. Especially given the price point that this product is typically marketed at (which I believe was discounted in this case). Secondly, the underwhelming medicinal effects that the Lato Pop produced did leave utter disappointment after honing a bunch of likable traits during the smoke. You can agree or disagree with my stance, but I personally feel like companies who go through the work of excessive marketing/packaging should have standards that consistently align on the quality of flower being produced as well as amount offered on the consumer end. I stated that I had slept on the Lato Pop for a long time but, after having the chance to sesh with it, I almost felt like I was better off staying in bed. With this being said, I will have the second installment for High Tolerance and Jokes Up posted next Tuesday as I will showcase their White Lato Pop with high hopes it will rectify my overall experience towards this collaboration.
I needed scissors for the packaging on this one in order to gain access the seal on the Lato Pop. When popping it open, I picked up on fairly pungent aromas of cherry fruit punch and candy. The overall nose was fruity and creamy but I also sensed a mix of spicy floral notes in there too. This had all the makings of a gelato/Runtz cultivar as the nose on the Lato Pop was highly delectable. The three to four nugs that made up the eighth were fairly colossal. However, one red flag that left me a little flabbergasted off the bat was the fact that this eighth only weighed out to 3.3g. I've heard of various myths of bud losing around .02-.03g in weight due to the compression they experience in Mylar bags, although a whole .2g less is a little absurd for my liking. Nonetheless, this cultivar did pose with above average aesthetic. The buds consisted of powdery triche coverage dribbled over darker purple and lighter green hues. The buds were a little compressed due to the storage it was kept in at the event. This didn't have too much effect on the condition of the pistils as plenty of them laid scattered around each nug. While they felt moderately fresh in hand, upon breaking down, the buds had fair amount of stickiness to them leaving some scattered kief particles on my rolling tray. The yield after breaking them down was above par with what I've seen in the past from various runtz/gelato cultivars. When I took a dry pull from the joint, it consisted of a creamy berry flavor which was complimented by notes of fruit punch and floral.
When I sparked the Lato Pop in an Organic RAW, I immediately picked up on those cherry fruity punch terps reminiscent of the nose. I also gained a large variation of floral, citrus, and creamy berry terps on the initial inhales. Starting of the sesh, the pulls were gassy and packed with flavor. I gained a bit of Gelato 41 taste in this as well as I felt a spicy layer flare up over those distinct floral terps. I also focused in on a faint bubblegum taste which was exhibited from these flavors.
On the way out, there was more of a sharp mustiness that overpowered the subtle taste of creamy berries and fruit retained from the inhales. Around the midpoint of the sesh, I started to sense some z terps formulate around the spicy floral flavor giving the smoke a savory candy coating. The pulls at this point became a little more smooth and subtle. For the most part, the Lato Pop had a slow and even burn to it resulting in a lighter grey ash with a few darker spots at some points. As expected, the multiple layers of flavor produced a messy terp drip which left the joint with an excessive oil stain. Due to this, I felt a slight flavor loss towards the end forcing me to extinguish the joint a little ahead of schedule. Nonetheless, I was very impressed by the overall terp profile And smokability while seshing with the Lato Pop making it, in my opinion, the standout feature within this cultivars output.
Towards the tail end of the sesh, the medicinal effects from the Lato Pop started with a throbbing sensation pushing forward on the front of my head and eyes. Within 10 minutes or so, I started to feel very soothed within my neck and shoulder region. This mild sense of sedation was far from crippling but did give me a full body calm. I felt slight loss in my train of thought and, for the most part, carefree about any current problems lingering. I didn't have too much trouble bearing the effects of the Lato Pop during the daytime, however, nighttime use was a lot more suitable for this cultivar. I did believe the duration in which the medicinal effects last were on the lighter side. Already bearing moderate effects, the total high only last around 1.25 hours wearing off quickly after reaching the hour mark. I certainly feel comfort within the effects while they were present, however; it appeared they to come and go a bit too quickly for my liking making expectations fall flat regarding the medicinal effects this cultivar put out.