Strain Review: Gelato 41 by Darwin Farms
Gelato 41 – @darwinfarms
Nose: Earthy, nutty, piney, floral, fruity, citrus
Inhale:Fruity, citrus, floral, spicy, diesel, nutty
Exhale: Cakey, woody, fruity, piney
Lineage/Genetics 🧬: Sunset Sherb x Thin Mint GSC
Bred by: SHERBINSKIS @sherbinski415
Cultivated by: Darwin Farms
Terpene Profile: Unknown
Assisted by: @258.exotics
Gelato 41 Cannabis Cultivar (Strain) Review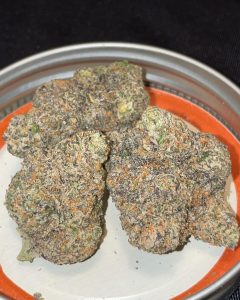 Hey what's up everyone? Before I get started with this review I wanted to take this time out to thank everyone who has continuously supported this page from day one. Today marks my 75th review since starting this page back in late September and I don't think the creative spark would have existed for so long if it was for all of your interest as well as support. For the special occasion, I figured I'd debut a special brand out of Cali none other than Darwin Farms, exclusively part of the Doja Pak Gang. Personally, I couldn't too much background info on Darwin Farms apart from their massive IG following and their overly artistic direct-to-print Mylar bags which I've seen floating a lot around the Boston area past couple months. When poking through their IG page I saw their various cultivars and offerings that they showcase their craft. When I was given some of their Gelato 41 by 258 Exotics, as per usual, I was thrilled to finally see what all the talk has been about. Let's waste no more time and get into the facts!
The Mylar bag I received the Gelato 41 by Darwin Farms in had standard, square shape to it with a distinctively created direct-to-print design. At first glance, I thought this looked like a dinosaur or something pre-historic. However, it consisted of what I believe is a Komodo dragon laying on a rock accompanied by a bird in a tree as well as other reptiles and sea creatures below. They all look fairly stoned and, in the background, a river was displayed in which they overlooked. Additionally, there is, what I believe to be, Darwin's mansion set upon the other side of the river. Nonetheless, the bag art was extremely detail-oriented which I'm sure was not cheap by any stretch of the imagination. With this being said, I had high hopes the quality of the Gelato 41 would match the fancy branding.
When I opened up the seal on the bag, the initial nose I received on the Gelato 41 was distinctly burnt rubber with gassy earth aromas. This consisted of earthy, nutty, piney notes with a light undertone of citrus and fruit. Altogether, this put together a distinguishably pungent odor which became gassier in smell the closer you put your nose to it. I was met with gigantic, dense Nugs (around 4-5 total made up my quarter) evenly made up of light green, violet and darker purple hues. Although the nugs were a little compressed due to transport, I still think the aesthetic on this cultivar was fair especially when cracking the buds open. When doing so, I got a good look at the lighter shades of violet and pink guts within in. At this point, I also captured the majority of pistils inside the body as they were packed in for the most part. The triche coverage was fair but became a lot more noticeable when put under the microscope. As mentioned, these nugs were dense with a mild stick to them. Once broken down, the texture was a lot sticker than I had expected leaving kief residue on my fingertips to clean off. The yield was phenomenal and filled up the joint excellently giving me a lot of bang for buck regarding the amount I put it. The dry pull was in true Gelato 41 form as I received a mix of floral and diesel notes to go along with a subtle undertone of citrus.
When I sparked the Gelato 41 in an Organic RAW, the initial inhales were hard-hitting producing tons of floral and gassy fruit terps . I also gained flavors of orange and lemon which laid underneath a layer of nutty, diesel-like terps. On the way out, I was fixated on a baked good taste that created an unexpected output of strong cake and wood flavors. This is not to take away from the fruity aftertaste this cultivar left lingering. For the most part, the pulls were gassy leading to a moderate amount of pressure build up in the chest as well as some coughing. Around the halfway mark of the sesh, I focused in on spicy terps that started to formulate around the burst of floral in each inhale. This is very consistent to almost all previous experiences I have had smoking Bacio (Gelato 41s subsequent nickname). Around this same point, the pulls became fruitier, making some of those more overbearing inhales even more tolerable than earlier in the sesh. I did hear a couple sources say that this consisted of hazelnut terps which I couldn't exactly hone in on. However, this cultivar did put out a faint, lingering nutty taste throughout the sesh. Altogether the Gelato 41 Darwin Farms put out hear had a multitude of flavor and power making this a very compatible smoke for seasoned vets. The burn on this was mostly even resulting in a white ash supported by a mean terp ring res drip. Personally, there wasn't much I could poke at when it came to the smokability of this cultivar. I thought this was a well-rounded, likable smoke that led to a crippling high.
The medicinal effects from the Gelato 41 didn't waste any time kicking into gear. The coughing alone off some of the inhales started to hit the front of my head leaving a slight head rush as well as slight paranoia. Before completion of the sesh, I started to feel a slow melting sensation take over my upper body making it's way down to my feet. The head rush wore off as I started to feel a little more slumped and tired. My eyes were extremely watery and red as I fought to keep them open. Within a half hour or so, I felt fully sedated struggling to move from my position on the couch. The potency of the medicinal effects aligned well with the smoke producing a high that lasted around two hours. In addition to being heavily sedated and tired, this cultivar worked up my appetite. This came in handy for after work use especially those longer, more anxiety-provoking days. A couple times this even put me in a slumber solidifying the validity of the Gelato 41's medicinal effects. All in all, I did find the effects of this cultivar to be favorable even as overpowering as it was at most points.
Minus a few minor blemishes on the aesthetics, I thought this was altogether a smoke that I could recommend to more experienced level smokers. If you love a good combo of gas and fruit with a little bit of complexity to the terp profile you will be in for a treat. As mentioned in the previous paragraph, I wholeheartedly believe this should be reserved for weekends or later in the day due to its effects. Due to this, indica-leaning smokers will enjoy the high that this cultivar puts out. Being this was my first time around trying anything from Darwin Farms, I felt like they overall left a good first impression with their Gelato 41. I have seen other flavors floating around by them and will make sure to try some more out in the near future.