Strain Review: MAC 1 by Evans Creek Farms
Seems like MAC and MAC 1 are the "it" strains these days. Never seen a batch that wasn't impressive, pungent, and incredibly powerful. Everybody wants it, and there's a good reason for that. This batch is from @evans_creek_farms by way of @thc.pdx.
Lineage/Genetics: MAC (backcrossed)
Original Breeder: Capulator
Grower: Evans Creek Farms
Dispensary: Treehouse Collective
MAC 1 Strain Review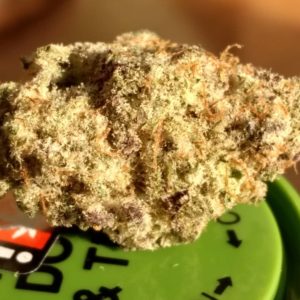 These nugs are lovely specimens that glisten with wonderful trichomes. Dough is the main flavor I get from the extreme sweetness of these flowers. The smoke is milky and smooth, and doesn't leave me with any breathing difficulty or lung burn. There's some coughing from the first hit, but that's just what happens when bud is sufficiently "loud."
The effects have been all over the place for me. Potent creative euphoria and mental function, but it also put me to sleep the first 3-4 times I smoked it. MAC does that to me sometimes. As I've kept smoking it, the high has evolved into more of a classic sativa high, without any anxiety or paranoia. This is something I would have to watch like weird anime or 1970's Kung Fu movies with bad English dubbing. Something where the giggles would be a huge benefit.
Definitely recommend it. Seems like @evans_creek_farms puts out a batch fairly regularly, so grab it when you see it.
Mac 1 Strain Review Part 2
Generally, MAC 1 has been a luxury smoke for me. The stuff @evans_creek_farms grows is amazing, but I smoke through it pretty fast because of its density. This MAC 1 from @oregongreens_ent and @tetra.pdx has been a nice switch up as one of my daily driver hybrids.
Lacking the doughy notes I've come to associate with MAC, this stuff was citrus forward as hell for me. It had some kinda earthy notes underneath, but lemony citrus was the big scent here. The nug structure isn't as tight, so it's easier to work with and not burn through in a week.
The high was nice. Real nice. It wasn't sedating or heavy, but it also wasn't an energetic high. It provided the function I needed if I wanted to do something, but it was euphoric and stoney enough to really improve a movie watching or gaming experience. One of those things that really is what you make of it.
I've been reviewing some of the bigger name farms lately, and sometimes it's nice to go for one I don't see very often for a change of pace. Much as I love the "exotics" (I fucking hate that term), this stuff was fire and different from what I'm used to. I'd definitely recommend it if it's still at @tetra.pdx, but they always have something worth your money and time.
.
.
.
#miraclealiencookies #mac #OMMP #portlandweed #oregoncannabis #portlandcannabiscommunity #pdxweed #oregonweed #pdxcannabiscommunity
#medicalmarijuana #Medicate #weedstagram420 #highsociety #weedporn #weedporndaily #420review #wedontsmokethesame #justblazeig #weshouldsmoke #cannabiscommunity #higherthanmost #420 #420lifestyle #420life #cannaseur
Advertisements