Strain Review: Trinity OG by Resin Ranchers
So I've loved Trinity OGsince I used to get it in high school. It was always significantly better than the standard mids we all got as teenagers, and it was from my first dealer who didn't skimp. There's a lot of nostalgia there for me, so you can imagine my excitement when @resin_ranchers.pdx put out their Trinity OG. I went down to @thc.pdx and snagged some immediately. I gotta be honest, though, this didn't blow my mind.
Lineage/Genetics: Unknown
Original Breeder: Unknown
Grower: Resin Ranchers
Dispensary: TreeHouse Collective
Trinity OG Strain Review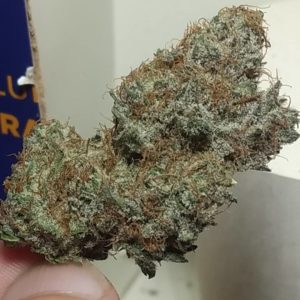 The nugs are strikingly beautiful. The trichomes and hairs were perfectly intact, and the smoothness I've always associated with Trinity was still present in the smoke. It's the smell, though. I got some kinda hashy, gassy notes, but honestly, there wasn't much there. It felt like it wanted to be terpier, but something happened and that fell through.
The high is incredibly light for me. It's started my day pleasantly since I got it due to its functionality. There's a noticeable relaxation to it, but no real stoniness or weight to the overall high. The overall smoothness and functionality make it useful for like smoking before work or something like that, where the flavor isn't top priority.
This is kinda like the Hypnotoad for me. It feels like it would have been top notch bud like 10 years ago, when being the smelliest stuff isn't necessarily a plus. I'd try a second batch, especially if someone told me it was terpier than this one. I think there's promise, but this ain't it, chief.
.
.
.
#thehighestcritic #strainreview #strainreviews #weedreviews #420review #portlandcannabis #OMMP #portlandweedreviews #mmj #oregoncannabiscommunity #portlandcannabiscommunity #oregonweedreviews #Medicate #oregoncannabis #medicalmarijuana #pnwstoners #pdxcannabiscommunity #pdxstoners #pdxcannabis #cannabisreviews #cannabiscommunity
Advertisements