Strain Review: Grape Pie by Surfr Select
If you want my recommendation from the recent @surfrselect drop, it's the Grape Pie. I did NOT wait patiently for this drop, as my friends at @thc.pdx can attest. It was actually the Apple MAC I was most excited about, but these sticky, gorgeous, colorful flowers have really stolen my heart.
Lineage: Cherry Pie x Grape Stomper
Original Breeder: Cannarado Genetics
Grower: Surfr Select
Dispensary: TreeHouse Collective
Grape Pie Strain Review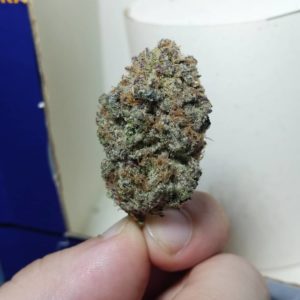 Everything about this stuff is remarkable. The coloration is striking with it's variation. Deep purple patches sit underneath multiple shades of green and a heavy coating of glistening, pristine trichomes. The structure is dense and well cured, so it burns long in the bowl. Load smaller rips than you normally would. Or don't. I'm not your boss.
I also mean the smell when I say everything is remarkable. Sweetened grape and dark fruit (cherry, plumb, blackberry, Marionberry) notes dominates, but there's a kushiness underneath that reminds me of this Afgoo I used to get back in the day. I love unique flavors and aromas, and this definitely satisfies those desires.
The effects may actually be my favorite part, though. Heavy, euphoric relaxation just covered me like a warm blanket. It's powerful, but not disorienting like a GMO or OG can be. It's giggly and munchy inducing. Great for the end of your day or encouraging sleep when the police concussion grenades are going off in the distance and you can't calm down.
I'm gonna do the Apple MAC and Ex-Wife, too, I just wanted to make sure this recommendation got out there while the stuff is still on the shelves at @oregrownindustries and @thc.pdx. If you get one strain from @surfr this summer, this is the one you should choose.
#thehighestcritic #strainreview #strainreviews #weedreviews #420review #portlandcannabis #OMMP #portlandweedreviews #MMJ #oregoncannabiscommunity #portlandcannabiscommunity #oregonweedreviews #Medicate #oregoncannabis #PNWStoners #PDXcannabiscommunity #pdxcannabis #pdxstoners #cannabiscommunity #cannabisreviews