Strain Review: We Not Me by Core Gardens
I had planned on doing a little showcase on @coregardens because the quality of their Dogwalker OG surprised me when I got some on a whim from @portland_cannaconnection a little while back. Unfortunately, my notes on that stuff were lacking, and I couldn't write a review on it that I thought was good enough.
While my opening paragraph will lead you to believe I am not the professional I claimed to be in my last review, I think the following paragraphs will show that I am a far better kind of professional. Instead of a two strain, two dispensary showcase, I get to give the We Not Me these guys grow (thanks @tetra.pdx) the focus it deserves. What's more professional than finding a silver lining to your mistakes?
Lineage/Genetics: Animal Cookies x Cherry Pie (Cherry Kush) x Mainline OG
Original Breeder: Scapegoat Genetics
Grower: Core Gardens
Dispensary: Tetra Cannabis
We Not Me Strain Review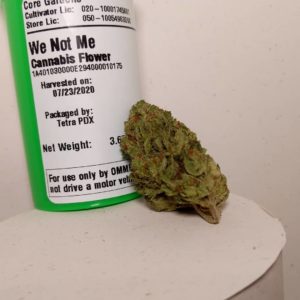 This stuff smelled like a yard debris bin on fruit orchard. I know that's super specific, but bear with me. It had this dominant grassy funk, but this inescapable underlying fruitiness. Fruit and vegetation fermenting in the sun type shit.
The terpene profile was dominated by myrcene, trans-nerolidiol, beta-caryophylene, and limonene, so it comes out complex as fuck. Notable amounts of linalool and humulene add even more to that. It's what I'd want from an Animal Cookies/Chery Pie cross.
The high is relaxing and good for pain, but not overwhelming or sleepy. Generally a solid hybrid for most of the day, maybe better served in the afternoon or evening.
The grower themselves was super great when I DM'd them with questions. They sent me over full terpene analysis and all the info I asked for. They're fantastic for people on a budget, or if you're looking to support a woman run cannabis company. I'd also recommend the Dogwalker OG I couldn't review. Both strains are really good for settling the stomach.
#thehighestcritic #strainreview #strainreviews #weedreviews #420review #portlandcannabis #OMMP #portlandweedreviews #MMJ #oregoncannabiscommunity #portlandcannabiscommunity #oregonweedreviews #Medicate #oregoncannabis #PNWStoners #PDXcannabiscommunity #pdxcannabis #pdxstoners #cannabiscommunity #cannabisreviews