Strain Review: Grandpa's Gun Chest by Evan's Creek Farms
You fuckers took me at my word when I told you not to wait for the review on this Grandpa's Gun Chest. Budtender I talked to at @archiveseedbank said they sold their pound (half pound?) the day they got it. I got mine at @thc.pdx, and those fools sold out, too. @oregrownindustries dropped it late and got swamped with phone calls about it. This shit is the hypest weed I've seen since the Point Break.
Lineage/Genetics: Animal Mints x Redneck Wedding
Original Breeder: Evan's Creek Farms
Grower: Evan's Creek Farms
Dispensary: TreeHouse Collective
Grandpa's Gun Chest Strain Review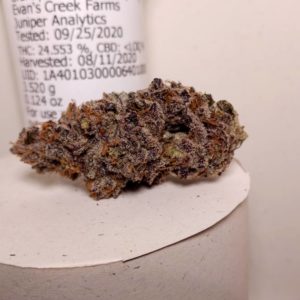 I was excited for this stuff completely independent of any word of mouth. @evans_creek_farms has been posting some of the sexiest plant shots I've seen, and I've been chomping at the bit for this stuff to punch me in the face. I was not disappointed. Right in the face. And the body. And the mind. Probably some other spots, too, but I was too high to notice.
Breaking up the nugs left glue on my fingers in both tacticle sensation and overall scent. Smelling them whole gave a very complex, savory profile. Meaty and fermented overall, but notable hints of wood and pine underneath paint it with a similar, if not identical brush to strains like Meat Breath with the mouth coating funk.
It had a strong body high that settled any nausea, aches, and pains, plus someone not actively going through a mental health crisis might find some anxiety relief and mood enhancement from this stoney fucker. Not super munchy inducing, but plenty of couch lock and general sedation. Hits you hard without necessarily making you feel out of control.
There's kind of a lot of amazing weed on the market right now. The fact that this stuff is gone for now isn't sad. It means I gotta try the Pot Roast from @focusnorthgardens now. I'd be surprised if @evans_creek_farms doesn't run this stuff again with the response it got.
#thehighestcritic #strainreview #strainreviews #weedreviews #420review #portlandcannabis #OMMP #portlandweedreviews #MMJ #oregoncannabiscommunity #portlandcannabiscommunity #oregonweedreviews #Medicate #oregoncannabis #PNWStoners #PDXcannabiscommunity #pdxcannabis #pdxstoners #cannabiscommunity #cannabisreviews