Strain Review: Animal Cake from Dynasty Collective
ANIMAL CAKE
Lineage/Genetics: Animal Cookies x Birthday Cake
Original Breeder: Unknown
Distributor: Dynasty Collective
Animal Cake Strain Review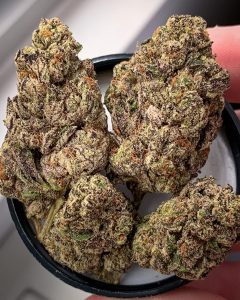 Via: @dynastydc1
Back with another quick review! This past weekend I spent my time smoking ANIMAL CAKE, and have come away thoroughly impressed. Animal Cake pops out the bag with large, frosty, eggplant purple buds, littered with speckles of forest green and dense sproutings of pistils.
Animal Cake possesses a "sweet pine" flavor with nutty cookie undertone, and finishing with just a hint of fruitiness on the back end.
Effects-wise, Animal Cake has a nice smack to it, minus the KO finisher. Expect a sweeping body high leading to a relaxing trance and stupor. I noticed the mind stays relatively clear throughout the high, but most certainly at ease and care-free. For me, this strain is a great all-day smoke for me, that is if you don't mind a heavy haze clouding your day. The perfect stay-at-home, work-from-home companion.
#Budfinder
•
•
•
•
#dcbud #dc420 #420 #dcweed #mdweed #stoner #marijuana #dccannabisculture #budtender #strainfinder #thc #dcgrown #dcgrowers #cannabisdaily #dccannabis #dcdabbers #dcedibles #puffpuffpass #dcnightlife #dmv420 #topshelf #devilslettuce #stoner #whiteashonly #cleanmeds #i71 #Animalcake #animalcookies
Advertisements