Strain Review: ICC (Ice Cream Cake) by True Genetics
ICC (ICE CREAM CAKE)
By: @truegenetics_
Via: @dynastydc1
Lineage/Genetics: Gelato 33 x Wedding Cake
Original Breeder: Seed Junky Genetics
Grower: True Genetics
True Genetics ICC Strain Review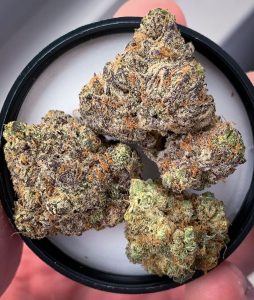 A few quick shots of some serious ⛽️⛽️.
True Genetics' Ice Cream Cake (Wedding Cake x Gelato 33) boasts medium sized, denser buds with alternating soft mint greens and raisin purples, bright red-almond pistils and the characteristic 'frosting' of trichomes. This cut of Ice Cream Cake leaned heavier on the wedding cake end of its genetics with a nutty, sugary dough flavor with cream and spice on the backend. A body dominant high, ICC is a calming mood improver paired with a slow-acting dose of physical alleviation.
Leave a comment with a DC Vendor to review next!
#Budfinder
•
•
•
•
#dcbud #dc420 #420 #dcweed #mdweed #stoner #marijuana #dccannabisculture #budtender #strainfinder #thc #dcgrown #dcgrowers #cannabisdaily #dccannabis #dcdabbers #dcedibles #puffpuffpass #dcnightlife #dmv420 #topshelf #devilslettuce #stoner #whiteashonly #cleanmeds #i71 #icecreamcake #trustthedynasty #truegenetics
Advertisements